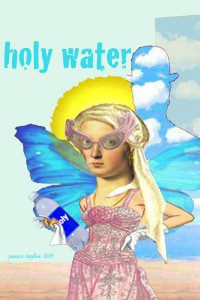 New York City Mayor Bloomberg announced yesterday plans to ban the sale of sodas and other sugary beverages larger than 16 ounces in restaurants and entertainment venues.
Upon hearing the news, Our Lady of Weight Loss thought it a good idea to take this opportunity to encourage consumers (like y'all) to not only reduce your consumption of sugary beverages but to remind you to drink water and say the OLofWL Prayer! Or maybe, say the OLofWL Water Prayer (see below) and then drink the water!!!
Listed here are a few good reasons to drink water, followed by the Our Lady of Weight Loss Pious Prayer!
Water, a Holy life force, is the most plentiful liquid on earth. Water covers approximately 70% of the earth's surface and is an essential component in most living things. Our bodies are more than 75% water, our blood more than 80% and our brains more than 76%.
Water can help to alleviate depression, cleanse impurities from the body, and make our largest organ – our skin – glow with health. Water regulates the temperature of the human body. It carries nutrients and oxygen to cells, cushions joints, protects organs and tissues.
Water is a natural appetite suppressant and helps us to digest our food.
Water promotes weight loss and helps the body to metabolize fat into energy.
Dear Our Lady of Weight Loss ~
May I thirst for water and experience with every sip
its miraculous cleansing powers.
May my sins and fat wash away – forever,
and please,
may there always be a clean bathroom nearby.
Amen
Spread the word … NOT the icing!
Janice
Life & Weight Loss Success Coach
wise * fun * utterly useful
————————————————————————————————————————————————
FEED YOUR SOUL: Change Your WEIGHT!!! workshop – extraordinary opportunity!
September 16 – 19, 212
ONCE IN A LIFETIME OPPORTUNITY at HOLLYHOCK– SIGN UP NOW!!!!
————————————————————————————————————————————————
For the best life, wellness and weight loss wisdom, visit Janice:
Our Lady of Weight Loss
join the Kick in the Tush Club
Become a Tushkateer!
Tushkateer* A Tushkateer is a person who receives Our Lady of Weight Loss's newsletter, called the KICK in the TUSH CLUB!!! Sign up and receive her weekly e-newsletter with all the news that 'fit' to print, and you are automatically a Tushkateer! How cool is that?
Follow Janice on Twitter @OurLady
Facebook.com/OurLadyofWeightLoss