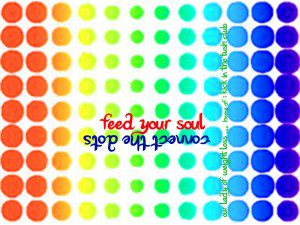 Last week, I made a commitment to do my absolute best to list ten ways to FEED YOUR SOUL: Change Your Weight each and every week from the first week in May through to September.  I am inspired and motivated to do this because I am leading a workshop at Hollyhock, an absolutely phenomenal wellness center in Canada (just a stones throw away), and the course is entitled … (want to guess???) Feed Your Soul: Change Your Weight!!!
Imagine, if you will … come September, I will have created a list of 200 ways that you can Feed Your Soul: Change Your Weight to share with you all and my workshop group!
It's quite the undertaking.  It may seem simple and simple it is; but not easy.   Please feel free to add your "Feed Your Soul" tips, ways and comments below!!!  I need HELP!!!!!! (in so many ways 🙂
This week's …
FEED YOUR SOUL: Change Your Weight (#11-#20) … Remove the STOPS!!!
(For last week's list, click HERE!)
11.   Whip Up a Bowl of Bliss. Combine one cup of the poetic with one cup of the mysterious.  The perfect complement to any meal; filling, delicious goodness.
12.   Connect the Dots from the past straight into your future, one to the next, and behold … the big picture revealed.
13.   Send the Black Cloud on its Way as it is but an illusion; a billow upon billow upon a billow.
14.   Open Your Eyes to the sweetness of the day.
15.   Make a Mistake.  It is, after all, one way of doing something and better than doing nothing.
16.   Remove the Stops, one at a time until there is no stopping … you.
17.   Love In General … round people, skinny people, tall people, short people, all people.
18.   Look for the Bright Spot.  It is right there, to your right. (No, your other right).
19.   Sigh a Deep Sigh and start anew.
20.  Sing With the Birds after the storm.
(Feed Your Soul: Change Your Weight – tips 1 thru 10)
Spread the word … NOT the icing!
Janice
Life & Weight Loss Success Coach
wise * fun * utterly useful
————————————————————————————————————————————————
FEED YOUR SOUL: Change Your WEIGHT!!! workshop – extraordinary opportunity!
September 16 – 19, 212
ONCE IN A LIFETIME OPPORTUNITY at HOLLYHOCK– SIGN UP NOW!!!!
————————————————————————————————————————————————
For the best life, wellness and weight loss wisdom, visit Janice:
Our Lady of Weight Loss
join the Kick in the Tush Club
Become a Tushkateer!
Tushkateer*  A Tushkateer is a person who receives Our Lady of Weight Loss's newsletter, called the KICK in the TUSH CLUB!!!  Sign up and receive her weekly e-newsletter with all the news that 'fit' to print, and you are automatically a Tushkateer!  How cool is that?
Follow Janice on Twitter @OurLady
Facebook.com/OurLadyofWeightLoss