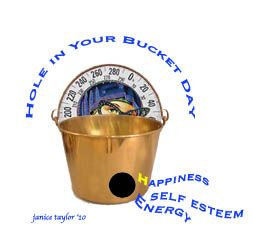 Did you know? Today is "There's a Hole In Your Bucket Day." How will you fill your hole? OR … will you continue to let your happiness, energy, vitality and life just leak on out???

Contemplate that while
you get down and jiggy
with today's Get JIGGY
JigSaw Sunday Puzzle: Hole In Your Bucket.
Spread the word … NOT the icing,
Janice
———————————————–
Join with Janice Taylor, your Life & Wellness Coach, at Omega
:
Our Lady of Weight Loss EnLIGHTens; Health, Happiness & Well-Being – Janice Taylor, Life & Wellness Coach, Hypnotist, author & 55 pound big-time-loser, is on a mission. She wants to make health and weight loss fun and create balance and harmony in our life. For more information about her life-changing workshop at The Omega Institute, our nation's most trusted source for wellness and personal growth …
READ ON
!
Curious about coaching and how Janice Taylor can help you live your best life?
Write Janice
!
Follow Janice on Twitter and/or Facebook!
Join the Our Lady of Weight Loss's Kick in the Tush Club: Beliefnet Chapter.
Visit: www.OurLadyofWeightLoss.com