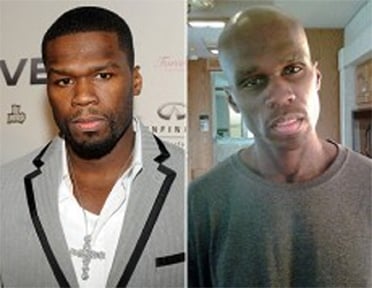 Never too thin? Take a look at these photos of 50 CENT, once a Beef Cake now a pancake and think again!!!
The infamous bad boy went on a crash liquid diet and walked for three and a half hours daily on his treadmill for nine weeks in order to lose 50 pounds, as he readied himself to play a cancer patient in the film, "Things Fall Apart."

50 CENT is now set to 'find' his pounds (If you lose it; you will find it.) He's eating big time now and will be back in shape soon enough.
While all of this extreme behavior is for 50 CENT a part of his work, we have an opportunity here to step back and ask ourselves …
QUICK FIX QUESTIONS:
Do quick fixes work?
Is the saying "never too thin, never too rich" true?
What is your healthy weight?
And how long will you wait to claim your healthy weight?
More Celebrity Weight:
Jillian Michael's
Anti-Pregnancy Comments?
Kelly Osbourne's
Quick Weight Loss Secret
Spread the word … NOT the icing,
Janice
———————————————–
Join with Janice Taylor, your Life & Wellness Coach, at Omega
:
Our Lady of Weight Loss EnLIGHTens; Health, Happiness & Well-Being – Janice Taylor, Life & Wellness Coach, Hypnotist, author & 55 pound big-time-loser, is on a mission. She wants to make health and weight loss fun and create balance and harmony in our life. For more information about her life-changing workshop at The Omega Institute, our nation's most trusted source for wellness and personal growth …
READ ON
!
Curious about coaching and how Janice Taylor can help you live your best life?
Write Janice
!
Follow Janice on Twitter and/or Facebook!
Join the Our Lady of Weight Loss's Kick in the Tush Club: Beliefnet Chapter.
Visit: www.OurLadyofWeightLoss.com