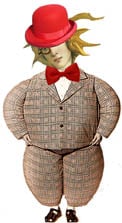 I hear tell that Oscar and Grammy winner Jennifer Hudson is losing it! Pounds that is!
Jennifer, on behalf of WeightWatchers, kicked off a national ad campaign last Sunday. "I decided to do Weight Watchers. I feel like I've conquered the world." says the lovely and voluptuous Jennifer.

In addition to getting the big payola
(let's be real, people – if someone paid you a large sum of money to lose it, you'd be plenty motivated)
, Hudson is losing it for her impending nuptials, as many brides do.
All well and good, but I do have a cautionary tale.
Please hear me loud, because I can tell you with certainty that while losing weight for an event may motivate you in the moment, your vision had better take you past the event, straight into something more meaningful or without a doubt, you will be off and running toward food the very moment that event is over!
Ask Cousin LuLu
Just ask my cousin, LuLu
(okay, not her real name, but I suspect she'd kill me if I used her real name and she may anyway)
. LuLu's son was getting married, and she wanted to look great in the slinky mom dress, and she wanted to be all out fabulous for the photos.
And wow, did LuLu kick into high gear! She was working out, toning her arms for her sleeveless gown, eating more fruits and vegetables, drinking water with sexy slivers of lemon and lime afloat. She was living the healthy life and loving it.
All a glow
(water will do that – perfectly plumps the skin
), looking almost as beautiful as the bride, (
LuLu isn't dumb enough to look better!)
, she danced the night away.
Event losing rarely works.
The very next morning at the wedding brunch
(weddings are no longer a single event; they go on for days!)
, there she was at the buffet, loading up her plate like there's no tomorrow. Bacon, croissants, butter, pancakes, syrup … you name it! Within a few months, LuLu had gained it all back plus some!
When we set our mind to lose weight for an event, it's easy to see – isn't it? – that when that event is over, our mind goes back to its old ways immediately and with our mind goes our behavior.
You have essentially self-hypnotized yourself. "Lose weight for event." And you do! And that's all you do!
In order to permanently lose weight, you want to:
1.
Focus Inward
: This is for you and only for you. Not for an event, not for other people.
2.
Change Your Identity
: You are now a person who takes care of yourself. You eat 'right,' you shake your booty, and you love yourself.
3.
Have More
: Healthy living is not about restricting yourself; it's not about what you can't eat. It's about having more healthy foods, more fun, more love, more creativity, more life!
I wish Jennifer Hudson a delicious life, and I hope that she has a long term healthy vision in mind.
More Celebrity Weight Loss Tips:
Ruby loses 366 pounds
… more to go!
Crystal Bowersox:
Mystery Illness
Spread love … NOT icing!
Janice
Join with Janice Taylor, your Life & Wellness Coach, at Omega
:
Our Lady of Weight Loss EnLIGHTens; Health, Happiness & Well-Being – Janice Taylor, Life & Wellness Coach, Hypnotist, author & 55 pound big-time-loser, is on a mission. She wants to make health and weight loss fun and create balance and harmony in our life. For more information about her life-changing workshop at The Omega Institute, our nation's most trusted source for wellness and personal growth …
READ ON
!
Curious about coaching and how Janice Taylor can help you live your best life?
Write Janice
!
Follow Janice on Twitter and/or Facebook!
Join the Our Lady of Weight Loss's Kick in the Tush Club: Beliefnet Chapter.
Visit: www.OurLadyofWeightLoss.com