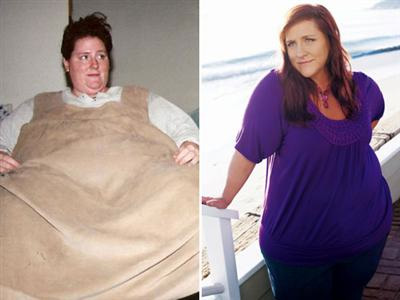 Just for a moment, I invite you to imagine what it must feel like to lose 366 pounds, to be able for the very first time buckle a normal seat belt, put on a pair of jeans and even a bathing suit. Step by step, Ruby Gettinger, with the help of the 12-step program, is courageously staring her food addiction down, down, down the scales of injustice

In 2008, at 500 pounds, Ruby launched a show on The Style Network to chronicle her journey to lose weight, and essentially save her life. Now, in the show's third season, Ruby is about to cross the 350-pound mark, as she journeys toward freedom.
And freedom is the actual prize, isn't it?
For the fully skinny on Ruby's inspiring story of weight loss and food addiction recovery, check out Holly Lebowitz Rossi's special piece, "
Ruby's Weight Loss and Recovery Journey – Facing Food Addiction: Healing Every Part of Me
"
More Celebrity Weight:
Kelly Osbourne
: How I got thin!
Victoria Beckham's Thighs
and heart attacks???
Spread the word, NOT the icing!
Janice
Join with Janice Taylor, your Life & Wellness Coach, at Omega
:
Our Lady of Weight Loss EnLIGHTens; Health, Happiness & Well-Being – Janice Taylor, Life & Wellness Coach, Hypnotist, author & 55 pound big-time-loser, is on a mission. She wants to make health and weight loss fun and create balance and harmony in our life. For more information about her life-changing workshop at The Omega Institute, our nation's most trusted source for wellness and personal growth …
READ ON
!
Curious about coaching and how Janice Taylor can help you live your best life?
Write Janice
!
Follow Janice on Twitter and/or Facebook!
Join the Our Lady of Weight Loss's Kick in the Tush Club: Beliefnet Chapter.
Visit: www.OurLadyofWeightLoss.com