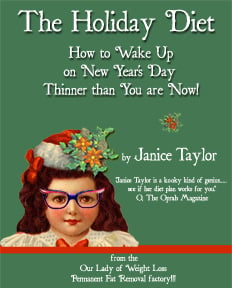 I've been talking to tons of Kick in the Tush Club members as well as private coaching clients, asking them "How do you get through the holidays without gaining weight?" And many tell me "I take a look at my calendar and when I see that a few events are looming in the not too distant future, I simply cut back on eating."

Not quite sure what that meant, I further inquired, "What does cutting back look like?"
Much to my shock (yes SHOCK!), after forty years (yes 40!) of breakfast related studies that show without a shadow of a doubt that kick-starting your day with breakfast is the healthy thing to do – one of the best strategies to lose weight – my peeps told me that they opt to skip breakfast, especially on the party days, thinking that they will save those calories for later.
I expressed my concern around their 'non-breakfast' strategies, and they further confessed.
"Oh, I just don't have the time for breakfast!"
Really? How much time does it take to down a bowl of cereal or a container of yogurt with a bit of fresh fruit? Or a hard-boiled egg, for that matter?
"I'm not hungry in the morning."
What time do you eat dinner? 10 p.m.? Midnight?
"Skipping breakfast is a part of my diet plan."
Studies show that eating breakfast will actually help you to reach and maintain your healthy weight.
"I don't like breakfast."
There's no rule about what 'breakfast food' is or is not! You could eat lunch for breakfast or dinner for lunch or breakfast for dinner. Get creative.
Here's why YOU should eat breakfast!
… and I rarely tell anyone what they should do!!!
After eight to twelve hours of NOT eating (fasting!), your body is ready to and needs to refuel its glucose levels (a.k.a. blood sugar). Glucose is the main energy source for your brain, and it helps fuel your muscles that move you through your day. Those who skip breakfast often find themselves feeling tired, restless, irritable and scattered.
Whether in the process of removing those excess pounds or maintaining your healthy weight, breakfast is very important! It helps to curb your hunger and breakfast can help to prevent binge eating later in the day. At the end of the day, those who eat breakfast consume less calories, are thinner and tend to be healthier than those who do not eat breakfast.
And for you moms out there … kids who eat breakfast do better in school, are more alert and can concentrate better than the kids who skip the most important meal of the day!
Breakfast Tips!
Try combining a bit of protein, carbohydrate, fiber, and fat at every breakfast. A breakfast that ranges between 250-350 calories can keep you sated for hours!
• Ready-to-eat whole grain cereal topped with fruit and yogurt.
• Whole-grain waffles topped with one tablespoon of peanut butter, fruit and or ricotta cheese.
• Whole-wheat pita stuffed with sliced hard-boiled eggs, lettuce and tomato.
Sardines (in mustard sauce, my fav) on whole-wheat crackers (or stuff that pita again!).
• Steel Cut Oatmeal topped with fresh fruit.
• Breakfast smooth (whirl up a milk, fruit and bran combo in your blender)
• Omelet (egg-white or otherwise) with copious amount of veggies, an orange on the side with a slice of whole wheat toast.
Now! Include breakfast into your healthy food plans, even if your calendar is over-flowing with holiday parties. You'll thank me for it come January!!!
Looking toward your future? Thinking about 2010?!
21 Ways to Make Simple New Year's Resolutions
Spread the word … NOT the icing!
Janice
________________________________
Does your weight loss chart look like an EKG?
In need of a coach?
Write Janice
!
Follow Janice on Twitter and/or Facebook!
Join the Our Lady of Weight Loss's Kick in the Tush Club: Beliefnet Chapter.
Visit: www.OurLadyofWeightLoss.com
www.JaniceTaylorLiving.com