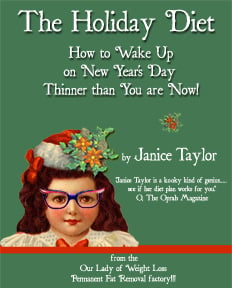 Ho, Ho – Hold on there! I know … it's easy to throw your hands up in the air and say, "It's okay. It's the holidays. I'll straighten up and eat right in January."
But will you get a handle on things come the New Year? And if you do, how much damage will you have suffered?
Make a conscious choice.
Think it through. How will the Scales of Injustice register post holiday? Up, down, sideways? Do you want to lose weight? Maintain? Is it okay to gain a pound or two? There's no right or wrong answer. It's your choice.
Face the food, head on.
Whether you are trying to lose weight, maintain or just stay healthy, to get you through this holiday season Our Lady wants you to keep her Top Ten Holiday Commandments in mind. 10 commandments printout.pdf Sometimes a simple reminder is all you need.
The Our Lady of Weight Loss Ten Holiday Commandments
Thou shalt honor thy body and believe in thyself.
Be kind, loving and forgiving to yourself, first and foremost – always.
Thou shalt never leave home hungry.
Eat something before the party. A salad, some fruit, even an egg will do. And plenty of water and/or seltzer.
Thou shalt stay clear of the buffet table.
Get away from the food. Why torture yourself? Socialize – have a fun conversation!
Thou shalt not deny thyself a treat or two now and then.
Fill up your plate with Our Lady approved foods, and leave a little space for your favorite treat. Too much denial isn't a good thing.
Thou shalt recycle food gifts.
Quick, fast – before you change your mind. Give the candy, the cakes, the food away.
Thou shalt keep thy hands busy.
Try knitting, crocheting, cutting & pasting, needlepoint, draw, write – anything to keep your hands busy. Give your creations as gifts!
Thou shalt stay clear of sweat pants.
Wear snug clothing. No room for expansion, no sweats please!
Thou shalt walk – a lot!
Ask Santa for a pedometer for Christmas. And then use it!
Thou shalt drink enough Holy Water to frighten Noah and map out all the restrooms in thy village.
Drink up – water that is.
Thou shalt not covet thy neighbor's plate.
Spread the holiday word … NOT the icing!
Janice
Looking toward your future? Thinking about 2010?!
21 Ways to Make Simple New Year's Resolutions
________________________________
Does your weight loss chart look like an EKG?
In need of a coach? Write Janice!
Follow Janice on Twitter and/or Facebook!
Join the Our Lady of Weight Loss's Kick in the Tush Club: Beliefnet Chapter.
Visit: www.OurLadyofWeightLoss.com
www.JaniceTaylorLiving.com