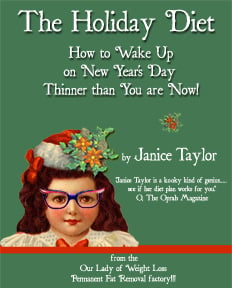 Be forewarned: Perfectionism can lead to:
Low self-esteem (if I am not perfect, no one will love me),
Low-productivity and in some cases obsessive compulsive disorder (OCD),

Procrastination (no point in doing something if I can't do it perfectly)
Depression,
Sexual dysfunction,
Divorce, and
DUMPING THE DIET … a.k.a. giving up!
Give up the ALL or NOTHING Mentality NOW! Trying to be perfect goes against the grain of the natural flow of life. If the ALL or NOTHING WEIGH OF THINKING is interfering with your life, in any way (weigh), shape (pear shaped or apple) or form (extra rolls around your middle), I invite you to consider letting go of this potentially dangerous approach, that is only going to lead you to a crash and burn failure (again)!
Go with the 80/20 Plan!
On occasion, you will find that you are a little to the right or left of your food plan. Could
be it's your birthday (or mine), or you ordered steamed vegetables NO sauce, and 'they' delivered it with sauce. If your healthy living plan is too rigid, you will crack! Plain and simple. Don't crack. Be flexible.
More Holiday Diet Tips:
How many calories does Dexter burn while hammering
?
The party is over
!
The Holiday Diet
: How to WAKE UP THINNER on New Year's Day! is an ongoing e-program.
Spread the word … NOT the icing!
Janice
If YOU Want to WAKE UP THINNER? then go to THE HOLIDAY DIET for details on the e-book, community and more!
________________________________
Does your weight loss chart look like an EKG?
In need of a coach?
Write Janice
!
Follow Janice on Twitter and/or Facebook!
Required Reading:Our Lady of Weight Loss: Miraculous and Motivational Musings from the Patron Saint of Permanent Fat Removal an OPRAH BOOK CLUB pick: Summer 2009 – Buy NOW!
Join the Our Lady of Weight Loss's Kick in the Tush Club: Beliefnet Chapter.
Write Janice Taylor, Weight Loss Coach, Certified Hypnotist, Author and 50-pound big-time-loser for an introductory one-on-one coaching session.
Visit: www.OurLadyofWeightLoss.com
www.JaniceTaylorLiving.com