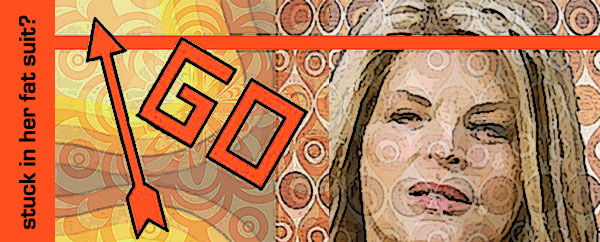 Kirstie Alley, Fat Actress, is set to 'star' in a new reality show that will document her "struggle" to shed pounds. Fox News reports that the series "will trail the 58-year-old star as she "labours" to restore her curves while raising two teenagers in Hollywood." The yet-to-be-named show will consist of 10 half-hour episodes to debut on A&E sometime in 2010.

As you may remember, Alley, a yo-yo dieter, famously
lost and found
75 pounds as a spokesperson for Jenny Craig – reportedly going from 145 lbs. to 228 lbs.
While I am sure that the show will be wildly entertaining and wacky (in the best possible way), and while I am sure that Kirstie will lose the weight … the question remains????
When the lights go dark, when the episodes are in the can, when Kirstie 'loses' those 75 plus pounds, will she 'find' them again?
More Celebrity Weight!
Kirstie Alley: Stuck in a fat suit?
Kirstie Alley: A Puzzle for These Fat Times
Dish the Dirt: Denise Austin on Saddlebag Slimmers
The Holiday Diet
: How to WAKE UP THINNER on New Year's Day! is an ongoing e-program.
Spread the word … NOT the icing!
Janice
If YOU Want to WAKE UP THINNER? then go to THE HOLIDAY DIET for details on the e-book, community and more!
________________________________
Does your weight loss chart look like an EKG?
In need of a coach?
Write Janice
!
Follow Janice on Twitter and/or Facebook!
Required Reading:Our Lady of Weight Loss: Miraculous and Motivational Musings from the Patron Saint of Permanent Fat Removal an OPRAH BOOK CLUB pick: Summer 2009 – Buy NOW!
Join the Our Lady of Weight Loss's Kick in the Tush Club: Beliefnet Chapter.
Write Janice Taylor, Weight Loss Coach, Certified Hypnotist, Author and 50-pound big-time-loser for an introductory one-on-one coaching session.
Visit: www.OurLadyofWeightLoss.com
www.JaniceTaylorLiving.com