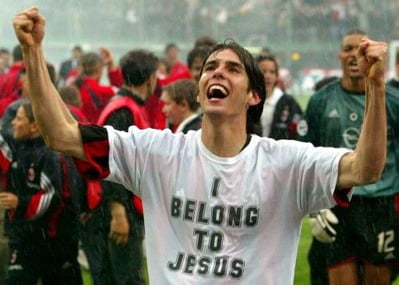 Ricky Kaká doesn't care if the whole world knows. In fact, he prays that they do.
"I Belong to Jesus" reads the t-shirt that the former FIFA World Player of the Year and the European Confederations Player of the Year wears under his jersey. As is the custom in soccer, he rips off his jersey when he scores a goal — and there, the whole world sees his testimony.
Born in Brazil, his legal name is Ricardo Izecson dos Santos Leite, which nobody except Brazilians can begin to pronounce. So, he's known to the soccer world as Kaká.
He became a Christian at age 12, just about the time that he got serious about soccer — and is a faithful member of the Evangelical Rebirth in Christ church in Brazil.
As a 12-year-old, he remembers, "I learned that it is faith that decides whether something will happen or not."
After he led Brazil to the 2002 World Cup championship, he removed his jersey and did all the media interviews in his trademark "I belong to Jesus" t-shirt. He openly thanks God on camera — dropping to his knees and triumphantly pointing to heaven at the final whistle of Brazil's 2002 World Cup victory as well. Playing for Milan, Italy's soccer squad, he did it again as the refs sounded the whistle in Milan's 2004 and 2007 triumphs.
His soccer cleats are embroidered "I belong to Jesus." During the postmatch celebration following Brazil's 4–1 win over Argentina in the 2005 FIFA Confederations Cup, he and several of his teammates yanked off their jerseys revealing t-shirts that read "Jesus Loves You" in various languages.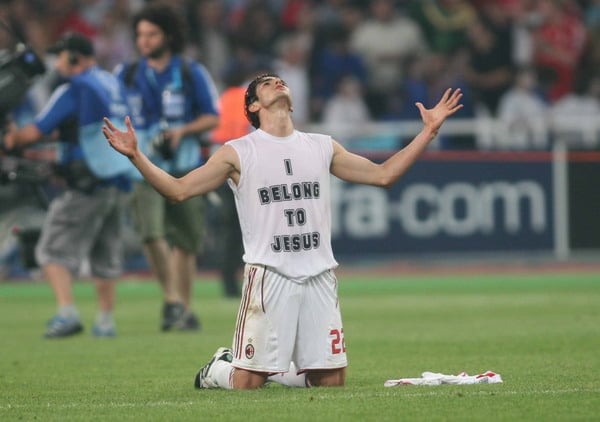 How good is he? Madrid paid him $79 million to leave Milan last year and come play for Real Madrid — in English, "the Madrid Royals." He's been the Italian league's Player of the Year twice, Europe's top scorer of the year twice, and FIFA's World Player of the Year. Some would argue that he is the world's best midfielder. Last year, he didn't score the most goals, but was named the FIFA World Cup Top Assister since as playmaker, he set up the winning goals more than anybody else. Time Magazine named him one of the top 100 Most Influential People in the world.
And he takes his opportunities to influence the world very seriously.
"To those who already have Jesus: you have made the best choice and are in the best team," he once told a magazine interviewer. "Go ahead. Do not give up. The fight is great, but we can only win being on Jesus' side.
"To those who have not yet surrendered their lives to Jesus: What are you doing being outside of this team?! Come to learn the Word of God, come to know who God really is. Stop eating cookies, while God offers us a banquet."