Why does the loathsome Westboro Baptist Church, which Wednesday won a controversial case before the U.S. Supreme Court, call itself "Baptist?"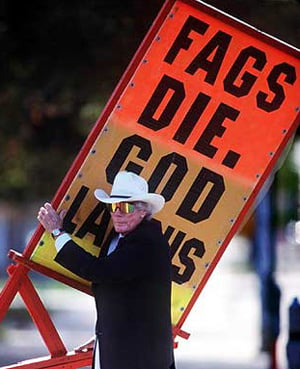 Westboro is best known for protesting the funerals of U.S. soldiers with highly offensive signs.
"Fred Phelps, the pastor of the Westboro Baptist Church has devised a scheme for getting attention: He desecrates military funerals," writes columnist Jonah Goldberg. "Albert Snyder, the father of a fallen Marine, sued Phelps for protesting his son's funeral. He won millions. The Supreme Court overturned that verdict."
The Court ruled in favor of free speech. Phelps has the Constitutional right to say horrible, hurtful things – to twist the knife in the wounds of mourning families.
In its decision the Court upheld restrictions on the protests, such as Maryland's law requiring Westboro to be at least 1,000 feet away from the funerals and graveside services.
"This bunch has made it their mission to disrupt and make more painful as many military funerals as they possibly can," writes columnist Kevin Collins. "They carry signs claiming our fallen heroes are guilty of promoting homosexuality and that 'God hates fags.'"
But why do they call themselves Baptists? America's largest evangelical denomination, the Southern Baptist Convention says Westboro is not one of their congregations. The Conservative Baptist Association of America, the National Primitive Baptist Convention, the North American Baptist Convention, the General Association of Regular Baptist Churches, the Baptist General Conference of America and the North American Baptist General Conference all disavow any connection with them.
"They picketed our convention. We have nothing to do with them," said a spokesperson at the National Association of Free Will Baptists.
"Westboro Baptist Church is a church all Baptist churches should speak out against," writes Guy Morton in northern Ohio's The Morning Journal newspaper. "This church brings protesters carrying signs of disrespect to the funerals of fallen soldiers. This is abhorred by all Baptist groups I have known: 16 million Southern Baptists, 6 million National Baptists, 3 million American Baptists, the General Association of Regular Baptists, Independent Baptists, Regular Baptists, Primitive Baptists and Missionary Baptists.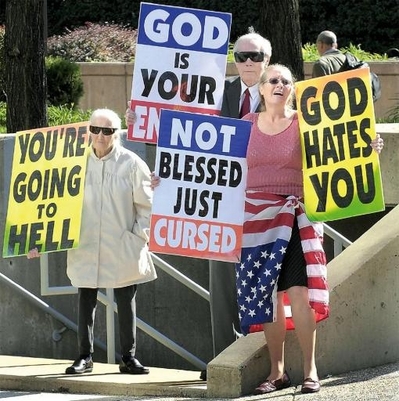 "They are nothing but a group of about 11 people. They show up at the Southern Baptist Convention every June with their signs, to vent, intimidate and show off. They are a discredit to the U.S.A. and any true Baptist church."
So, just what is Westboro Baptist Church?
The answers are never clear, writes Collins, the "media would love to write about Fred Phelps and his gang being 'Right Wing fanatics,' but, of course, it can't – because the truth is 180 degrees to the opposite. As recently as 1998 Phelps got 15 percent in a Democrat primary for governor. He has been a devoted supporter of Al Gore and led his church members in working for Gore in 1988.
"Phelps' son, Fred, hosted a fund raiser for Gore in his home."
"Phelps is a disbarred attorney who made a living suing institutions," continues Collins. "His disbarment followed his conduct during a trial alleging a court reporter intentionally failed to provide Phelps with a transcript on time. He had the woman on the stand for a full week reducing her to tears with his demands for details about her sex life. Ultimately Phelps himself was convicted of perjury and stripped of his law license.
"In 2003 Phelps wrote a letter to Saddam Hussein praising him.
"Phelps' own son, Nate, shuns any connection with the church. Now 51 and a taxi driver in Cranbrook, British Columbia, Canada, Nate wants nothing to do with the church – described in a 2007 BBC documentary as 'The Most Hated Family in America.' Nate has turned away from them.
The Westboro congregation lives on a compound in Topeka and is comprised almost entirely of Phelps family members, writes Leanne Larmondin of the Religious News Service.
Since the early 1990s, Phelps' followers, whose websites include GodHatesFags.com and GodHatesAmerica.com, claim to have held 43,000 demonstrations. They have picketed churches, synagogues, government buildings and funerals of soldiers.
Nate says his father was a civil rights attorney-turned-preacher who espoused a frightening version of Calvinism to his family – which makes it a mystery that the group doesn't claim to be Presbyterians instead of Baptists.
"They believe that they alone in this time in history have been selected by God to carry his torch, his word, to the world and everyone else has fallen into error," remembers Nate.
Violence was ever-present in his home, he remembers.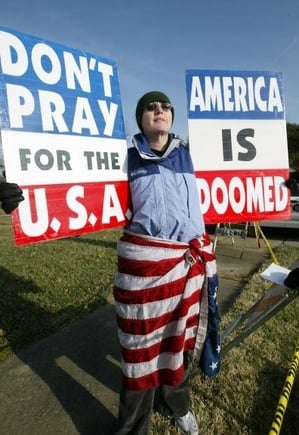 "Fred Phelps beat his wife and his children with his fists, a leather barber strap, or the wooden handle of a mattock, a tool like an ax," writes Larmondin.
The children also beat each other, he said.
"Early on, Nate Phelps chafed at his rigid upbringing, refusing to sell candy for the church, hiding and reading comic books," writes Larmondin.
"Anybody who didn't conform stuck out like a sore thumb," remembers Nate. "But I was also observing my father, this man of God, how he treated people.

"He's supposed to be Christ-like, but watching him abusing my mother and siblings," Nate recalls, drove him away from the church. And there he remains, humiliated to be associated with his father.
And Baptists worldwide wish Phelps would call himself something else.