Blogging is good for me. It's an excellent way to publicize my books. It's a way to build and sustain a platform of loyal readers. It allows me to feel like I'm doing something worthwhile, like encouraging doubters or making people think about religion or fostering conversation between believers and non-believers.
In my universe, blogging can be a pretty self-absorbed act.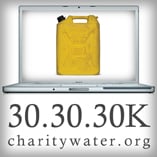 But this month I'm part of a campaign that will, hopefully, give me the chance to use my blog for good. It's called 30 Bloggers, 30 Days, $30,000.
For the month of September, I'm joining other bloggers like Tyler Stanton, Tripp Crosby, Bryan Allain, Rachel Held Evans, Susan Isaacs, and Karen Spears Zacharias in a campaign.
Our goal is to raise $30,000 for Charity:Water.
• $30,000 will provide clean water to 1500 people in Africa.
• $30,000 will provide clean water to 300 families in Africa.
• $30,000 will provide clean water to six entire communities in Africa.
————-
Answers to potential questions:
Are you asking me to give $30,000? Because I already bought one of your books for $10 and I had to give up lunch for two days in order to do that.
Thank you for buying my book. I'm sorry you missed a couple of lunches. No, I'm not asking you to donate $30,000 unless you are spectacularly wealthy and you want to. If you're not carrying that amount of cash, then I'll be satisfied with a much smaller donation. I'm asking my readers to donate any amount during the month of September using this donation page.
$20, for example, provides clean water to one person for 20 years. That's four trips to Starbucks for you…or 20 years of water for them.
Why Charity:Water?
Because we like their organization a lot. Since private donors take care of all overhead, 100% of public donations (like anything raised by our campaign) go directly toward water projects. It's hard to find that kind of efficiency in the NGO world. Charity:Water is an excellent, responsible, creative organization and I'm personally a big fan. Read or watch founder Scott Harrison's story of how he started it.
Why a water project?
Because one in eight people on the planet have no access to clean drinking water. Because unsafe water and unhygienic living conditions cause 80% of the world's diseases, especially among children. More than 42,000 people die every week from unsafe water and poor sanitation — and 9 out of 10 of those deaths are children under 5. And it's something we can fix. When an impoverished village gets a well, everything changes. Better sanitation. More time for productive labor. More food. More time for kids to get educated. Less sickness. Fewer deaths.
Are you going to be blogging about water for the next 30 days? Because you're already a one-trick pony with this doubt thing. So a new topic actually sounds great!
No, I won't be mentioning it every day. Maybe once a week is all. And I'll be tweeting about it every so often. You're out of luck, Mom.
What can I, your loyal reader, do to help?
Donate. Blog about it. Tweet about it (hashtag: #30water). Post it on Facebook. Send your friends to our 30/30/30K page. Think about it every time you take a drink of water that's not contaminated with amoebas and parasites.
You mentioned a few of the bloggers involved in this campaign, but it wasn't all 30. So who else is doing it?
Here's a list of everyone but me:
Bryan Allain
Matt Appling
Trey Boden
Everett Bracken

Stephen Brewster
Burnside Writers Collective
Billy Coffey
Tripp Crosby
Greg Darley
Sam Davidson
Rachel Held Evans
Evan Forester
Chad Gibbs
Susan Isaacs
Kevin Keigley
Lacey Keigley
Wes Molebash
Scott Moore
Eric Olsen
AJ Passman
Katdish
Brad Ruggles
Rob Shepherd
Jeff Shinabarger
Shawn Smucker
Tyler Stanton
Tyler Tarver
Tyler Thigpen
Karen Spears Zacharias
————-
Thanks, everyone. I'm excited about this campaign and can't wait to see what happens by the end of September. Spread the word.