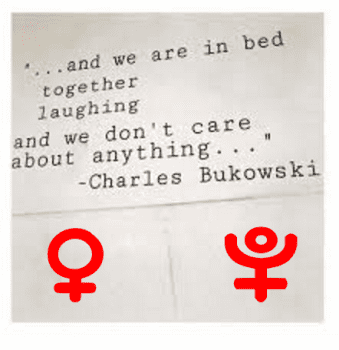 By now you may have heard Venus will turn retrograde in Capricorn on December 19th, and then stay retrograde until January 29th. Normally at this time, I would deliver some wise-sounding warnings about your budget and your affections and your relationships and whether or not you really need to be talking to that ex of yours.
But I think that this year that approach misses the point. We have a particularly interesting situation happening between Venus and Pluto
Venus is now slowing down to retrograde, making it much slower than usual. Normally, Venus conjunct Pluto is an aspect that would normally last only about a week. But because Venus is so slow right now, and then it backs up, we are essentially going to have Venus conjunct Pluto in effect until the New Year.
(No matter what transits are happening, how they play out in your life depends on your individual birth chart. Write me with your date, time, and place of birth — and I'll send you a copy and a free sneak preview!)
So how should you handle this? All the usual advice about your love and your money and your exes still applies. But I also think that there is a hidden usefulness that we can get out of this conjunction.
Think back to how your life was running between December 2019 and February 2020. And no I'm not just talking about the world in general (aaaaaiiieee pandemic!). Did something go off-kilter in your life during that time frame? The next month may be an opportunity for you to apply a little love and/or affection and or/cash to that situation to make things better. And that can be a powerful use of astrology: not just looking at the aspects and saying "well such and such as going to happen," but to actually apply it to the previous patterns in your life — and be forewarned and forearmed about the opportunities upcoming transits present.
Venus retrograde might be tricky, but Venus conjunct Pluto might be a great time for breakthroughs with your diet. Or it might be a great time to get financially organized. Or maybe you can straighten things out once and for all with that ex of yours.
Whatever your circumstances, time to think back to that time frame in late 2019-early 2021 that I was referring to earlier. I'm not saying any of those events will exactly replicate themselves, but now may be the time to finally address some of the effects of what happened back then.
Oh, and for bonus points? In the second half of January, Venus will be trine Uranus. Maybe my advice about pouring a little sugar on the matters that arose for you in 2019-2020 might be your key to making through the stinkfest that the Saturn-Uranus square has turned so much of 2021 into.
Now having said that? My phone is blowing up. I have exes texting me!
Want to know how to work with the current and future energy to get maximum benefit? Feel free to write me about it!
CLICK HERE to find out how you can get a personalized, informative, life-changing consultation that will help you take charge of your life in the next year!
CLICK HERE to join the OH MY STARS Facebook Fan Page, and get exclusive content, an additional discount on a reading, and more material on blog entries!