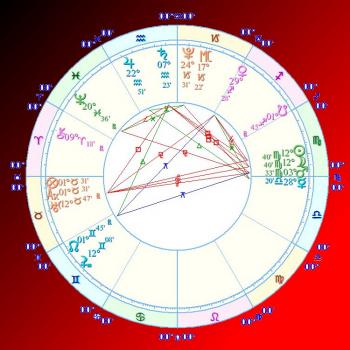 The big news in astrology all this year has been the ongoing Saturn-Uranus square. This is the aspect that has made so much of the world so obnoxious and unwilling to agree on even basic, obvious facts. That aspect is approaching its final peak, which happens in December. However, even though the two planets are 5 degrees off of the exact square now, smaller and faster transits will make their presence more strongly felt.
Unfortunately, that's going to be happening with today's New Moon in Scorpio, which is exact at 5:14 PM Eastern Time.
(No matter what transits are happening, how they play out in your life depends on your individual birth chart. Write me with your date, time, and place of birth — and I'll send you a copy and a free sneak preview!)
If you have followed my work for long, you know that I often recommend a New Moon as a time to set out your plans for the next month. Unfortunately, this New Moon is going to be very unstable and erratic, happening within a tiny fraction of a degree of the exact opposition to Uranus. Remember: don't worry because it's Scorpio. People worry too much about Scorpio. It's the aspects of the Sun and Moon will be making to Saturn and Uranus that have me worried.
There is a chance that there is going to be some major shakedown happening in your life if the Saturn-Uranus square has been of significant effects to you and your birth chart. Check out your chart and keep an eye on placements between 5 and 12 degrees of the Fixed Signs (Taurus, Leo, Scorpio, and Aquarius). Those are the ones that have been hit hard by Saturn and Uranus in the last year.
And whatever form that hit may have taken, be especially cautious in the next couple of days. Don't stress yourself out, but don't take on too much. And remember: you've survived plenty of bad Moons before. I just think this one deserves a little extra caution.
Now, here's the punchline.
The reason I talk about setting out your intentions for the next month during a New Moon is that although the aspect itself is over fairly quickly, it tends to resonate for about a month, until the next New Moon, which in this case is on December 4th. It's a "super moon," it's a total Solar Eclipse… and between now and then Mars (now in early Scorpio) will complete the exact square to Saturn and be very close to the exact square with Uranus — all culminating with the final exact Saturn-Uranus square on December 24th, which also features a close Venus-Pluto conjunction.
If this sounds to you like Very Big Wheels are in motion now — you'd be right.
But remember: prepare. Don't panic.
Want to know how to work with the current and future energy to get maximum benefit? Feel free to write me about it!
CLICK HERE to find out how you can get a personalized, informative, life-changing consultation that will help you take charge of your life in the next year!
CLICK HERE to join the OH MY STARS Facebook Fan Page, and get exclusive content, an additional discount on a reading, and more material on blog entries!