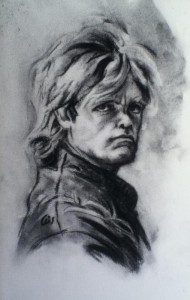 To: Maester Mikayel Lutin, Chief Astrologer and Keeper Of The Electrum Link, Casterly Rock
From: Tyrion Lannister, Acting Hand Of The King (former), Master Of Coin (former), Still Breathing (eventually to be former)
Dear Maester Lutin:
I am writing to you from my cell deep in King's Landing, where you have no doubt heard I am awaiting trial for the murder of my nephew King Joffrey. Though I am innocent, I confess I do not miss the brat at all. He was a greater menace to the Seven Kingdoms than all the wildlings north of The Wall put together.
I have had a great deal of time to reflect on my past, here in this dungeon. Many a time my thoughts have turned to the lessons learned from you in my youth about both astrology and poetry. I am writing to you now with two questions about those subjects.
You told me once that ultimately the stars, like The Seven Gods themselves, are fair. I never believed that until recently. You see, I think I've finally absorbed the lesson you were trying to teach me the whole time I studied the predictive arts with you: when you said "fair," what you really meant was "they follow rules and can't be swayed by our tastes and opinions."
Thanks for the lesson, Maester!
It all reminds me of my cousin Orson, who was the simplest of creatures and who would sit in the garden all day crushing bugs with a rock, happily exclaiming "Kuu! Kuu! Kuu!" while doing so. I never understood what he got out of it, but now I realize he was, in fact, following rules — and was thus, in his own way, the most "fair" member of my family. If a beetle should cross his path, he'd smash it… consistently. My father on the other hand has waited until now to do that with me. You see, he is one of the judges at my trial. He has a long line-up of witnesses he's bought and paid for to testify against me. Or perhaps it was my sister responsible for that. Either way, my family remains problematic.
The reason I'm writing though is not to reminisce about my idiot cousin or complain about my father. In my current position, I am unable to consult the Table Of The Wanderers. I know that you once pointed out that two of the most feared of the Wanderers… the Strange One and the Dweller in Darkness… would have been in a square aspect to each other for a couple of years now. And what a couple of years it has been, filled with death and drama and intrigue and betrayals! Yet I find I am optimistic about the outcome of my current situation. This may be, as you once pointed out, because of my birth in the last month of the year.
What I need to know is: even though I believe I will somehow come out of all this relatively unscathed… will the Strange One and the Dweller in Darkness REALLY be in a square aspect to each other for ANOTHER TWO YEARS YET?
Kuu Kuu Kuu!
Nonetheless, I remain optimistic, and I'm sure I'll find a way to work things out with Father somehow.
Now, as for my question about poetry: I find that, for all the time I've had to remember my lessons while confined here in my cell, I am unable to recall one of my favorites from my youth, and was wondering if you could send me the rest of it. It's the one that begins:
There was a young lass from Meereen
Tattooed from her head to her spleen…
Your assistance with this would be much appreciated. Please answer as quickly as possible — my trial date approaches quickly.
Yours,
Tyrion Lannister
Want a free e-book? Sure you do! Click HERE!
Questions about your birth chart, or astrology in general? Want to know more about my big discount on readings for new clients? Write me!
CLICK HERE to join the Oh My Stars Facebook Fan Page, and get exclusive content, an additional discount on a reading, more material on blog entries, AND ANOTHER free e-book!