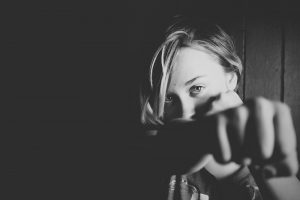 It could be a husband that doesn't believe. It could be a daughter trapped in a deceptive relationship. It could be a friend in denial of their alcoholism. It could be a coworker crushed under the weight of depression. However it manifests, we all have people close to us that are imprisoned by the deceptions of the enemy. Whether they realize it or not, whether they ask for it or not, you have a responsibility as a follower of Jesus to fight for them and conduct spiritual warfare on their behalf. Here are seven things you can intentionally do to fight for those you love. All of this comes from Paul's famous passage on spiritual warfare in Ephesians 6:10-18.
1. Pinpoint the attack (Ephesians 6:12). Our struggle is not flesh and blood, but against the spiritual forces of darkness. What is it that is driving your loved one's alcoholism? What is feeding their depression? Don't just look at the outward manifestation, but ask God for wisdom and discernment until you press through to what's going on underneath (it could be something like loneliness, regret for past events, trauma, etc.)
2. Saturate the situation with truth (Ephesians 6:14). Your loved one has been shrouded in darkness by the enemy. Truth is a light that will pierce through the darkness, and when your loved one can see, they can begin to step out of the darkness. Speak truth to them (in love), surround them with Scripture, help them remove influences in their live (media or people) that are feeding them lies. As Jesus himself said: the truth will set you free.
3. Bring the herd to the them (Ephesians 6:13). Every verb tense in the passage on spiritual warfare is in the plural. We are not designed to fight our battles on our own. A lion will never attack a herd directly because the herd is too strong. A lion will attempt to pick off his prey one-by-one when they are isolated and alone. If your loved one is isolated, surround them with biblical community. If they aren't within the safety of a herd, bring the herd to them.
4. Nimbly listen to the Spirit (Ephesians 6:15). There is an attentiveness and perseverance required when battling on behalf of your loved ones. You can't get distracted or lose focus. When Paul talked about having your feet fitted with readiness, it spoke to an agility and ability to move quickly to be at the right place at the right time. With your loved one, you have small windows of opportunity to speak into them. When those opportunities present themselves, you need to be nimble and ready to act. Pray every day for opportunities and be ready to act when those opportunities come.
5. Start thanking God for the victory and tell Satan to shove it (Ephesians 6:13). The reason Paul tells Christians to "stand" is because we have the high ground. We have the victory through Jesus. Start thanking God in advance for the victory in your loved one's life and verbally tell Satan to "shove it." Jesus is more powerful than the enemy and you have his Spirit within you. The victory is yours! Remind yourself and the enemy of that fact regularly.