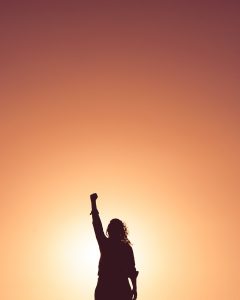 The following is a devotion from my message series 10 Steps to Freedom. I hope these devotionals help you experience lasting freedom in Jesus!
STEP NINE: day 5         
Fail forward and keep pressing on
Outside of Jesus, the Apostle Paul by far has had the greatest impact and influence on Christianity. But that's not because he lived a perfect, sin-free life. When you look at Paul's life you'll see that he struggled just like any other human. His success lay in the fact that he learned to fail forward. In fact, the seven keys to failing forward (day 4) all come from Paul's letters in the first century as he processed and taught early believers how to fail forward. Perhaps the best encapsulation of this idea is in the phrase "press on," which Paul writes to the church in Philippi:
But one thing I do: Forgetting what is behind and straining toward what is ahead, I press on toward the goal to win the prize for which God has called me heavenward in Christ Jesus. Philippians 3:13-14
In Paul's life and ministry we see a resilience and a relentlessness that we need to embody if we want to be free and stay free. The gravitational pull of your sinful nature is always towards bondage. You don't have to do anything to stay in bondage. Bondage is the easy choice. Freedom is the hard choice. Freedom takes resilience. Freedom takes repentance. Freedom takes relentlessness. How much is your freedom worth to you? Are you willing to do the hard work of pressing on until you reach the freedom God has for you? You don't have to do it alone! You have the hope of Jesus (step one), the presence of the Spirit (step two) and the love of the Father (step three) empowering you every step of the way. Press on!
QUESTIONS FOR REFLECTION
By simply reading this sentence, you have displayed your resilience to press on. You're on week nine! Spend a moment and thank God for giving you the strength need to keep pressing on.

Who is someone in your life that is faltering in their freedom that you can encourage and empower to keep pressing on?
You can read other devotional entries for 10 Steps to Freedom here.