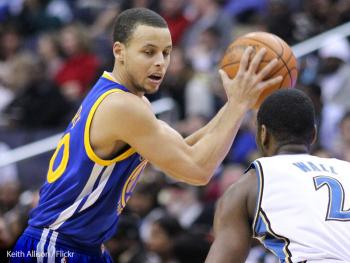 The mother of NBA superstar Steph Curry reveals she nearly aborted her son but God intervened.
Sonja Curry details in her new book how she scheduled an abortion when she was pregnant with Steph but ultimately decided to cancel the appointment. She credits God for intervening after another unplanned pregnancy.
"God had a plan for that child," Sonja said during an interview with pastor Luke Norsworthy.
Stephen Curry is one of the greatest shooters in NBA history and currently holds a record for the most 3-pointers. Sonja also gave birth to another NBA star, Steph's brother, Seth Curry. Seth plays for the Brooklyn Nets while Steph plays for the Golden State Warriors. Basketball runs in the family's DNA as the brother's father is former NBA player Dell Curry.
Sonja is usually spotted in the stands cheering her boys following their games. She said if she had gone through with the abortion "there would have been no Wardell Stephen Curry III." Fans can appreciate Sonja's
decision to keep her son because of the wonderful things that he has accomplished. He is an absolute force to be reckoned with on the court and is very entertaining to watch.
The abortion wouldn't have been Sonja's first. Sonja's first abortion happened when she was just a teen in high school. She was dating an older man and knew she wasn't ready to become a mother.
"I don't want to make that decision again," Sonja said during the interview with Norsworthy. "And now I've just gotta trust God to move forward with me having this child… I'm getting emotional thinking about it." Sonja became emotional as she discussed the first abortion she went through with. Sonja said it's something she thinks about all the time.
"I think about my first situation, and it's always something that will stay with you," she said. "And you just wonder where he or she is, what he or she is doing. I know they're in heaven — I believe he or she's in heaven."
It was Sonja's faith that gave her the strength to overcome those difficult decisions. Sonja believes it was the "Spirit" that interceded in her pregnancy with Steph in a way that she didn't even realize it was happening.
"There are consequences for our decisions. But … we shouldn't live in shame and judgment forever. … And the only person that can actually give us that peace of mind is God," she said. "And He's waiting. He's there to do it."
Sonja had opened up to Steph before about how she almost aborted him.
"I had shared it with him. One of the things that, you know, raising our kids Dell and I had decided that there were some things we could tell them, we didn't hide a lot about our relationship as much because we always wanted to use situations as teaching opportunities for them so that they could understand it at the developmental stage that they were at, but just to also not hide things."
Sonja believes that children should be subjected to reality and not the fairytale we want our children to live peacefully in. The real world brings very difficult decisions and heartaches that Sonja wishes to prepare her children for. There is evil in the world and there is good in the world, and it's important for them to see that. She also wants her children to be able to make their own decisions and not be followers.
"When you have all that we have and you're in the arenas that we're in, it's kind of hard for them not to think they're in utopia … so we tried to deliberately share some things with them," Sonya continued.
The NBA world is definitely gracious that Sonja ultimately continued on with her pregnancies giving the world two incredibly talented role models that have inspired fans around the world with their careers. Sonja's vulnerability and honesty are definitely something to be applauded especially in a society that often times expects women to portray themselves as perfect.