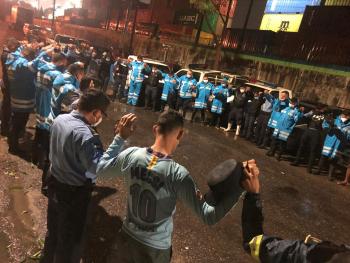 As hurricane Iota hit landfall this week, local police officers and a church congregation in Honduras joined together to lift up prayers to God and ask for His protection.
Iota, which is now a tropical storm, was the second hurricane to hit Central America this month. It followed Hurricane Eta which made landfall on November 3rd. Honduras is still reeling from Eta's effects and struggled to prepare for Iota's landfall. While over 600 temporary shelters were erected to help Hondurans, many are concerned that there is a lack of emergency supplies.
The National Police of Honduras tweeted out video footage and photos of large groups of officers and church members praying together as they anticipate the hurricane's arrival.
Many residents in the regions surrounding the capital were evacuated due to the risk of flooding and landslides. Residents along the country's remote coast were also evacuated for fear of flash flooding.
According to the Associated Press, Hurricane Iota is the 30th named storm of this year amid a record-breaking active hurricane season.