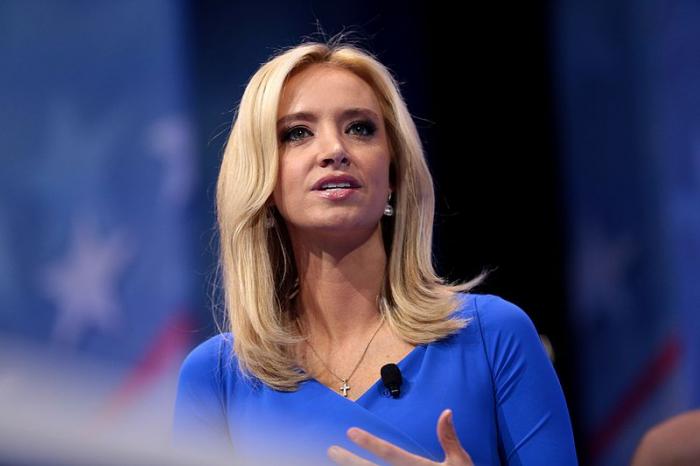 The new White House Press Secretary believes she is in her role for a reason and God is part of it.
Since entering her role, McEnany has been a stern defender of President Trump. In her position, she explains and defends the president's decisions and policies, while also taking on the media unapologetically.
You may not know that she is a woman of faith, who puts her relationship with Jesus Christ first.
"I believe God put me in this place for a purpose and for a reason like he does with each and every life," McEnany tells CBN News. "We're all here for a reason."
McEnany was raised in a Southern Baptist home. She also attended a Florida Catholic all-girls school. These things laid a strong foundation of faith in her life.
When Kayleigh was a teenager, she walked down the aisle of her church and gave her life to Christ.
It was not until she was in her 20s that something happened that transformed her faith.
"I was going through a hard time in New York and I was going to a great church in New York," she explains. "I remember feeling very lonely. It was when I first started my young professional life and I remember getting a call. I never answered numbers I didn't know but I answered that day, and it said, 'hey, this is the Journey Church. We feel like we need to pray for you right now, how can we pray for you?' It was at a distinct moment that I needed to hear from Christ and I felt that he communicated to me through my church and it's that moment I think my faith became even more real."
Kayleigh has managed to balance career and family. She joined CNN as a conservative voice, before becoming a top GOP official with the Republican National Committee. She was also the top campaign spokeswoman for the 2020 re-election campaign. In late 2019, her daughter Blake was born and she joined her mom on the campaign trail at times. Her husband Sean is a stay-at-home dad, which allows her to manage her career.
"It is a balance," she says, admitting that it's a tough sacrifice on all sides. "But I know at the end of the day, if I give Blake the same faith upbringing and relationship with Jesus Christ that my parents gave me, she will be an unstoppable woman of faith in whatever she decides to do."
McEnany believes conservative Christians who support Trump are attacked for their faith.
"…People are attacked for their faith, not just me, but Christian men and women across this country. It's unfortunate but I think we found a real voice in President Trump who stood for religious freedom and pro-life and [has] given us this boldness," McEnany expressed. "It was at Harvard Law School when I felt attacked as a conservative and as a Christian that I realized it was that megaphone and that kind of boldness we needed and that kind of fighter we needed to represent the Christian community."
Even in her high-stress job, McEnany finds time for Jesus. She has led weekly Bible studies while with the Trump campaign.
"We would pray and read the Word," McEnany said. "It just gave a little pep in our step because these days are demanding, they're challenging, they're long in politics, whether you're a Democrat or Republican, that's the nature of the job. It was a little rod of lightning, of just energy and joy in our day."