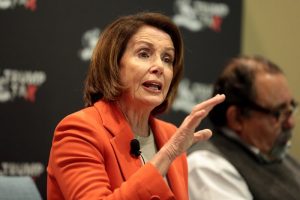 Nancy Pelosi, Speaker of the House, has been arguing for the release of federal prisoners due to the coronavirus pandemic. Pelosi used a famous Bible parable to justify her position, but many think she twisted the scripture to fit her political stance.
The pandemic has had both sides of the aisle calling for change. Many conservative critics are growing increasingly frustrated by the hypocrisy of Democrat politicians. On one hand, they have insisted that lockdown protesters be arrested, but also are now demanding that actual criminals be released from incarceration.
Dan Bongino, former Secret Service agent for the Clintons, said in a tweet: "LET ME GET THIS STRAIGHT. The same lunatics promoting these failed 'lockdowns,' & arresting people for trying to feed their kids, or for exercising their RIGHTS, now want to release actual prisoners for violating the Rights of others?"
In an interview with MSNBC host Joy Reid on Sunday, Pelosi was asked if future COVID-19 relief legislation will include the release of prisoners.
"In our caucus, we are very devoted to the Gospel of Matthew: 'When I was hungry, you fed me, when I was homeless, you sheltered me, when I was imprisoned, you visited me.' And so this for us is a part of our value system," she said.
"We will have language [in the next coronavirus relief bill]… to have some order and clarity so that some people can leave who really don't need to be there."
The parable, found in Matthew 25, tells about the separation of sheep and goats at the end of time. Traditionally, the parable is interpreted to mean that the people whom Jesus refers to as "sheep" are true Christians who receive "eternal life" and those whom he refers to as "goats" are people who will receive "eternal punishment." However, many of those who advocate for social justice use it to demonstrate the significance that Jesus placed on carrying out justice for vulnerable and marginalized people.
The COVID-10 pandemic has already resulted in the release of hundreds of thousands of prisoners around the world, according to the New York Times, including thousands in the United States. Prisoners are very vulnerable in contracting the virus due to how close they live to each other within a jailhouse.