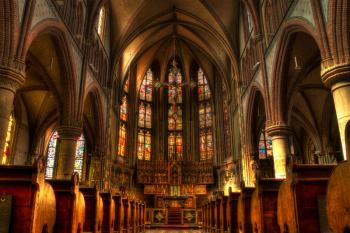 As we enter one of the holiest times of the year, religious leaders around the world are giving praises to the internet for being able to virtually carry through traditional religious services.
COVID-19 has already shut down traditional holiday celebrations around the world. Many churches, synagogues, and mosques will be closed to the public during the holidays this year, although services and sermons will still go on in empty rooms ;delivered locally and globally through live stream.
These virtual services and prayers are being hosted on apps like zoom, which has become widely popular during the pandemic. Zoom is a remote conferencing service that combines video conferencing, online meetings, chat, and mobile collaboration. Many religious leaders feel it is their duty to help stop the spread of the virus by complying with a new way to celebrate traditional holidays.
The virus has spiked virtual service attendances all over the world. A spokesperson for the Archdiocese of New York said viewers for their Sunday Masses has jumped from 600 to 26,000, and more are expected on Easter.
Popular global celebrations like the Passion play in Mexico City, which dates back to the 19th century will be held indoors without an audience. The famed public crucifixion in the Philippines has been cancelled. In Jerusalem, Christian events have been cancelled, but the Western Wall remains open although visitors must remain at the recommended distance from each other. The Pope's traditional Easter address will also be live streamed.
While most people are under restrictions such as the stay at home orders, families are getting creative with alternative ways to observe the upcoming holidays. Whether that's streaming Easter church services online, hosting virtual Passover Seder dinners, and even hosting family only egg hunts in their backyards.
As religious leaders around the world work to help their congregations navigate through the uncertainties of the virus, many believe that the pandemic is not a punishment, and they challenge their followers to find God even in suffering.