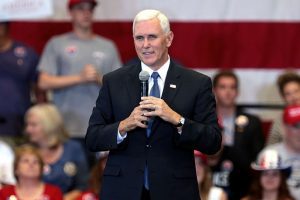 Vice President Mike Pence shared a bit of reality to the graduating class of Liberty University: be prepared to face discrimination because of your religious beliefs.
Pence, who is known for having strong Evangelical roots, gave the commencement address at Liberty University, know for also being tied to the Christian faith, over the weekend. He warned the graduates of what it's like to live out a Christian faith in a secular America.
"We live in a time when it's become acceptable and even fashionable to ridicule and even discriminate against people of faith," Pence told the Class of 2019.
"You know, throughout most of American history, it's been pretty easy to call yourself Christian. It didn't even occur to people that you might be shunned or ridiculed for defending the teachings of the Bible," Pence told the nearly 21,000 graduates. "But things are different now. Some of the loudest voices for tolerance today have little tolerance for traditional Christian beliefs."
Pence further warned them that their values would be questioned and thrown aside.
"You're going to be asked not just to tolerate things that violate your faith; you're going to be asked to endorse them. You're going to be asked to bow down to the idols of the popular culture," he added.
During the speech, Pence spoke from personal experience, referencing several examples of what he called discrimination against faith-based people.
His wife Karen Pence, who was in the crowd during the ceremony, had faced attacks in January after she returned to teach art at a Christian school that bans LGBTQ teachers and students. Pence characterized the incident as an "un-American" attack on Christian education.
Pence told the crowd he was dedicated to upholding the first amendment, which grants us freedom of religion.
"I'm proud to report our administration has already taken decisive action to protect religious liberty, and we'll continue to do just that," he said. "And I promise you: We will always stand up for the right of Americans to live, to learn, and to worship God according to the dictates of their conscience."
Watch his entire speech below.
We want to hear from you!