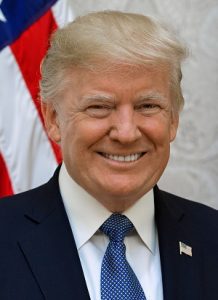 One-fourth of registered voters believe God wanted Donald Trump to be president. The breakdown of which voters, though, is really not all that surprising. Forty-five percent of Republicans and 9 percent of Democrats believe God wanted it.
The question was asked in light of White House Press Secretary Sarah Sanders telling CBN: "I think God calls all of us to fill different roles at different times and I think that he wanted Donald Trump to become president, and that's why he's there, and I think he has done a tremendous job in supporting a lot of the things that people of faith really care about."
Of all voters, 25 percent say they believe God wanted Trump to be president, while 62 percent disagree and 14 percent don't know, according to a new Fox News survey.
Over half of white evangelical Christians, 55 percent, feel God put Trump in office. Only 3 in 10 evangelicals said categorically that they didn't think Trump had God's explicit support in the election. That drops to 36 percent among Protestants and 20 percent among Catholics.
Fox News said its poll surveyed 1,004 registered voters between February 10 and 12, with a margin error of 3 percentage points.
The poll's findings are in line with another survey by the Public Religion Research Institute, NBC stated. That poll found that 28 percent of adults believed God played a "major role" in the 2016 election and 13 percent a "minor role."
Some voters voiced their concern in how the poll was worded, saying that God appoints all leaders, Trump included.
"Romans 13," a person wrote on Fox News' Facebook page, "let everyone be subject to the governing authorities, for there is no authority except that which God has established. The authorities that exist have been established by God."