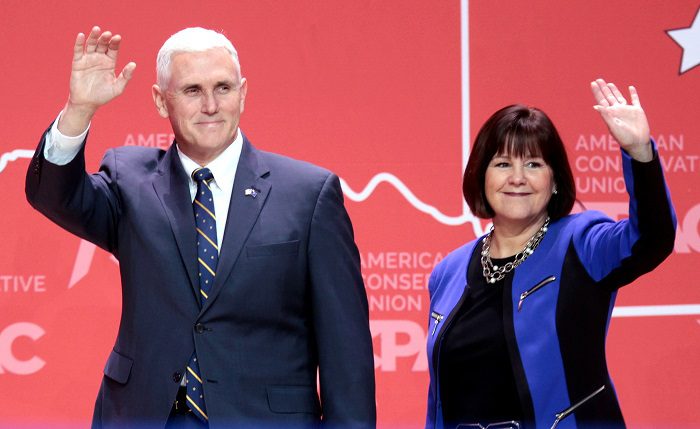 Vice President Mike Pence's wife, Karen is under fire after accepting a part-time teaching position at a private Virginia school.
Immanuel Christian School, a private K-8 school, requires employees to agree to certain religious beliefs and standards including living a "personal life of moral purity" and also believing that marriage can only be between a man and a woman.
It is quite common for conservative private schools to require this from its employees, said Robert W. Tuttle, a law and religion professor at George Washington Law School.
Immediately after accepting the position she was mocked and ridiculed for her decision, many criticizing the vice president's wife for taking on this position.
Daily Show host Trevor Noah ridiculed the Christian school's policy on sexuality and called the concept of religious freedom "crazy."
"I am not going to lie," Noah said. "I think it's crazy that if you want to discriminate against anyone in America all you have to do is say, 'Oh, it's because of my religion! I'm not discriminating!' I want to try that. I want to be like, 'No short people allowed in my shows because I want all my friends to be close to Jesus and you couldn't be further away.'"
Author and comedian Tony Posanski also attacked her beliefs and actions on Twitter, tweeting, "I pay for Karen Pence's housing. I pay for Karen Pence's security. I pay for Karen Pence's health insurance. All Americans do. So she needs to explain why it's okay to teach in a place that discriminates against the LGBT community, who are Americans that pay taxes."
Christian Headlines reports that the document states that "moral misconduct which violates the bona fide occupational qualifications for employees includes, but is not limited to, such behaviors as the following: heterosexual activity outside of marriage (e.g., premarital sex, cohabitation, extramarital sex), homosexual or lesbian sexual activity, polygamy, transgender identity, any other violation of the unique roles of male and female, sexual harassment, use or viewing of pornographic material or websites, and sexual abuse or improprieties toward minors as defined by Scripture and federal or state law."
Kara Brooks, a spokeswoman for Karen Pence defended her actions, making a strong statement in support of her decision.
"It's absurd that her decision to teach art to children at a Christian school, and the school's religious beliefs are under attack," Brooks said.
We want to know what you think.