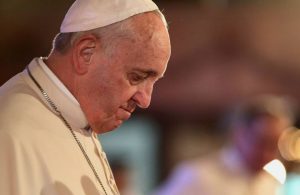 Kim Jong-un, the infamous totalitarian leader of North Korea, has officially invited Pope Francis to make a visit to the dictatorship's capital of Pyongyang. The invitation is set to be personally delivered to the Vatican by Moon Jae-in, the president of South Korea. Moon Jae-in is a Catholic himself and was already set to be in Europe on official business.
Kim stated that he would receive the Pope "enthusiastically" if Pope Francis accepted the invitation. "If the Pope visits Pyongyang, we will give him a rousing welcome," the dictator said.
The last time Pope Francis visited the Korean peninsula was in 2014, and he spent his time in South Korea where he held a Mass attended by more than 800,000 people. During the Mass, Pope Francis argued in favor of unifying the two Koreas. His position does not appear to have changed as he stated that he was praying that the historic meeting between President Trump and Kim Jung-un in Singapore this past June would lead to the "development of a positive path that guarantees a peaceful future for the Korean peninsula and for the whole wide world."
Pope Francis is known for being a rather unusual Pope, but the news of a potential visit to North Korea has raised eyebrows across the globe as North Korea is infamous for its barbaric treatment of Christians within its borders. Open Doors, a Christian persecution watchdog organization, ranks the countries which are most hostile to Christianity every year. North Korea has ranked as the most dangerous place to be a Christian for 16 straight years. Children of Christian families are tricked and bribed into searching their family homes for Bibles, often without being told what will happen to their family if they happen to find "a certain book." Christians unfortunate enough to be discovered are rounded up, tortured and murdered.
"If Christians are discovered, they are deported to labor camps as political criminals or killed on the spot; their families share their fate," Open Doors said on its North Korea fact page. "Meeting for worship is almost impossible, so is done in utmost secrecy. The churches shown to visitors in Pyongyang serve mere propaganda purposes."
Pope Francis would not be the first Pope to visit a nation that was openly hostile to Christianity. Pope John Paul II's famous visit to Soviet controlled Poland sent shockwaves throughout the communist bloc in 1979 and helped to bring the Soviet Union to its knees. That said, many are still unsure if Pope Francis could or would have the same energizing and revolutionary effect on the North Korean people that Pope John Paul II had on the Polish during the Cold War. Of course, this could all end up being mere speculation. Before any serious predictions can be made, Pope Francis has to accept the invitation.