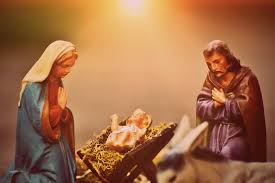 An Episcopal church in Indianapolis is sending a loud message against President Trump's immigration policies by putting statues of baby Jesus, Mary and Joseph inside a chain-linked fence on its lawn. This is in protest of President Trump's "zero tolerance" policy of arresting people at the U.S.-Mexico border.
"On our lawn tonight we placed The Holy Family…in #ICE detention," the church wrote on Twitter.
The chain-linked fence with barbed wire is intended to symbolize a detention center and bring awareness to this issue.
"I know what the Bible said," Rev. Stephen Carlsen told the Indianapolis Star. "We're supposed to love our neighbors as ourselves."
The church-lawn display was the idea of Rev. Lee Curtis.
While people are familiar with nativity scenes, people often forget what they represent, Rev. Carlsen said.
"That was a homeless couple who weren't welcome anywhere, who took refuge in the barm, and it was to that couple that the Christ child was born," Rev. Carlson told the Washington Post. "The heart of God is always with those who are on the margins, who are vulnerable and have no voice."
"The symbol is something that speaks to every one of us at our most basic level, because of who we are as a church and as Christians," Rev. Cannon Lee told CNN.
This is not the first time the church has been critical of Trump's immigration policies and they currently have no set date to take down the display.
"How long is it needed?," Rev. Carlsen said. "I would love for it to be outdated and be taken down. That would be my greatest wish."
Reactions to the nativity scene have been mixed. While some believe it sends a very powerful and necessary message, others believe the church went too far, and shouldn't use the scene or the church as a political tool.
What are your thoughts on the display? Did this church go too far?