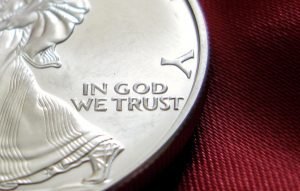 God could soon be making an appearance in every public school in Florida.
Following the deadly Marjory Stoneman Douglas High School shooting, the Florida House of Representatives has passed a bill that would require all schools and administrative buildings to display a powerful message: "In God we trust."
The bill was approved in a 97-10 vote after Democrat Rep. Kimberly Daniels sponsored it. Daniels pointed to the recent shooting at Marjory Stoneman as evidence of the need for more God.
"Our schools need light in them like never before," she said, likening God to that light. "[The] real thing that needs to be addressed are the issues of the heart."
Daniels said she had a vision earlier in the week, "I believe it was God, and I heard a voice say, 'Do not politicize what has happened in Florida and do not make this a thing of division'," Daniels continued to speak about God. "He's not a Republican and he's not a Democrat. He's not black and he's not white. He is the light. And our schools needs light in them like never before."
Daniels, who also runs a ministry, said the bill is "so simple, just sating put a poster up to remind our children of the foundation of this country."
The bill would take effect July 1, 2018. It's also not clear yet if the bill will also clear the Senate and be signed into law.
With little surprise, the proposal is being met with resistance from atheists and others who determinedly advocate for the separation of church and state.
Florida House Rep. Carlos G. Smith disagreed with Daniels, saying that he believes the "In God We Trust" proposal be inappropriate.
"Let's keep a clear separation between church + state," Smith tweeted. "Forcing our public schools to post 'In God We Trust' in a conspicuous place is inappropriate. I don't care if it was a Democrat who sponsor the bill. I vote based on core values, not party lines. I vote No on HB 839."
Passage of this bill came one day after lawmakers in the Hose did not pass a motion advancing a bill to ban assault rifles.
Student survivors of last week's attack have said that they want more than "thoughts and prayers" and are turning their frustration and anger into activism. Around 100 traveled to the state Capitol to amplify their calls for gun control. They are also planning a mass rally March 24 in Washington, D.C., to demand an end to gun violence and school shootings.
What are your thoughts? Should 'In God we trust' be a clear message in all schools? Do you think God is missing in our public schools today?