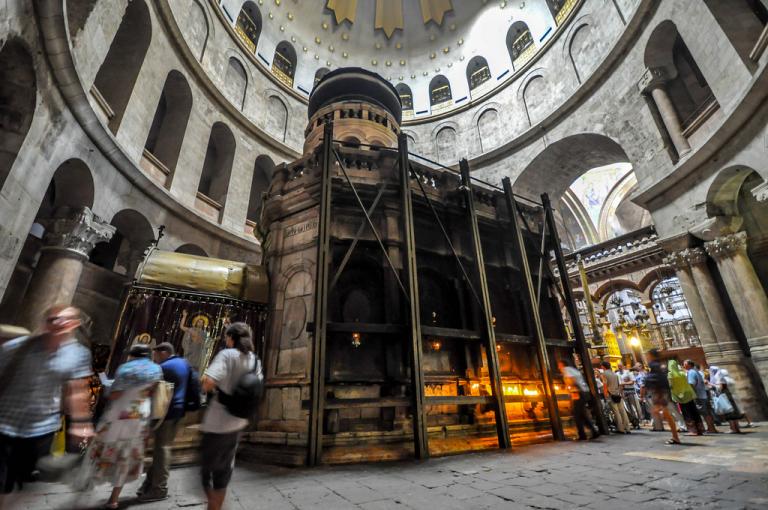 Church leaders have said that they will finally reopen the Church of the Holy Sepulchre in Jerusalem on Wednesday, after shutting it down in protest due to a newly proposed tax plan that was to impose taxes on church properties in the holy city.
Several major denominations, including the Roman Catholic and Green Orthodox churches, said in a joint statement that the church would reopen after being closed for three days. The Israeli tax plan had enraged religious leaders, and took action by shutting down one of the most important holy sites right ahead to the busy Easter season. The Church of the Holy Sepulchre is believed as the site where Jesus was laid to rest.
In addition to shutting down the church, leaders released a letter accusing Israel of conducting a "systematic and offensive campaign" against Christians and trying to "weaken the Christian presence in Jerusalem."
The office of Prime Minister Benjamin Netanyahu said Tuesday that a professional team would meet with church representatives to find a solution regarding municipal taxation of church assets that aren't houses of worship. Church leaders welcomed the "constructive intervention of the prime minister" as written in a statement.
For now, "the Jerusalem municipality is suspending the collection actions it has taken in recent weeks," the prime minister's office said in a statement. The Jerusalem municipality had recently issued orders to tax commercial church properties such as hotels, saying they shouldn't enjoy the same tax breaks that houses of worship do.
Jerusalem Mayor Nir Barkat stressed that his decision affected only the commercial properties not houses of worship, and said other cities followed similar practices worldwide.
"As the mayor of the city of Jerusalem, my goal and role is to make sure people pay their taxes," he said in an interview. "We have no negative or bad intentions here."
The statement from Church leaders said "the churches look forward to engage" with the team to ensure Jerusalem "remains a place where the three monotheistic faiths may live and thrive together." The churches accused Barkat of undermining the status quo and acting in bad faith. They say their non-church properties still serve religious purposes by providing services to pilgrims and local flocks.
In addition to suspending tax collection, Netanyahu's office said that proposed legislation governing the sale of church lands in Jerusalem was also being suspended.