Making English Premier League soccer history, the intense kid from rural Texas scored a "hat trick" – three goals in a single match for Fulham. Only a few days later, did he it again — the first American ever to do so once, much less twice.
And each time after Clint Dempsey scored, he looked to the sky.
Only reluctantly will he tell you why. As a 10- and 11-year-old local soccer phenomenon, Dempsey grew up outside of Nacogdoches, deep in Texas football territory.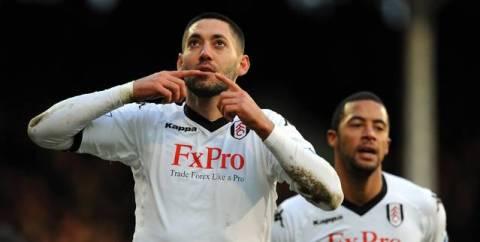 There, he earned youth soccer coaches' attention — and dread — with his young hunger to score and his instinctual ability to "finish" – to be there just at the right split-second to slam the soccer ball into the net.
Dempsey recalls how as a 7- and 8-year-old, he loved kicking basketballs with Hispanic buddies with their bare feet on any available grassy patch with piles of rocks as their goalposts. If six kids showed up, they competed 3-on-3. If 12 came, 6-on-6. If it was 30 – including big sisters and little brothers, they played 15-on-15. They didn't need coaches or referees blowing whistles; they just played for hours, enjoying the sheer joy of soccer.
As a third grader, "I was hooked," Dempsey tells the British daily the Guardian. "The popular kids at school would be like, 'What are you doing, man?' I played all the other sports, too. But I hated all the waiting to bat that you get in baseball. And there were too many stoppages in football. Soccer was continuous, free-flowing and exciting – and I was good at it too."
"His family could see he had talent," reports the Guardian's Daniel Taylor, "and when he reached 10, they decided to do something about it. His dad, Aubrey, drove him toDallas to trials for a club team called the Longhorns."
The coach for the Under-12 team threw a ball to the youngster, watched Clint do a few fancy moves he'd learned from neighborhood buddies and their dads – and immediately declared: "I want him."
Easily 10-year-old Dempsey made the starting lineup for the — Continued on Page 2