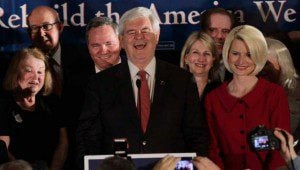 What a month of surprises our nation has seen in regard to this year's primary season.  Rick Perry drops out of the race and gives his support to Newt Gingrich; the Iowa Republican Party announces that Rick Santorum beat out Mitt Romney to take the win in the Iowa caucuses.  And of course, Gingrich takes home the victory in South Carolina winning over 40% of the vote, followed by Romney in second with 27.8%, Santorum at 17% and Paul with 13%. 
Nobody could have said it better than Rick Santorum upon learning the results of the South Carolina primary.  "Three states, three winners. What a great country," Santorum said after his first place win in Iowa and Romney's in New Hampshire. 
With the South Carolina victory under his belt, Gingrich focused his victory speech almost entirely on President Obama.  And he did not hold back, once again describing Obama as the most effective food-stamp president in American history.  He also hit hard in regard to Obama's decision to deny a permit for the Canada-to-Texas Keystone pipeline, which he warned could drive Canada to strike an oil deal with China. 
Of course, his efforts to scathe the Obama administration were anticipated on some level in the speech, but what was most refreshing for those listening was the discussion of his competitors.  Very rarely will a politician do what Gingrich did in his Saturday night speech.  Rather than criticizing his primary opponents he spoke of their strengths and commended them for their contributions to the debate. 
All four candidates are now in Florida, where Romney was ahead in the latest polls, but Gingrich is said to be closing the margin just as he did in the days before the South Carolina vote. Given the turn of events over the past several weeks, it will be interesting to see whose victory speech we will be listening to in the sunshine state.