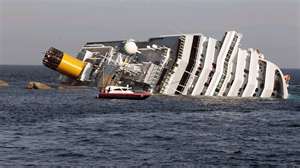 With 5 confirmed deaths and 30 reported injuries, six crew members and 9 passengers were still unaccounted for on the Italian Cruise Ship, Costa Concordia as of late Sunday. On Friday, the 13th , the ship carrying more than 4,200 people hit a reef or rock near the island of Giglio, toppling over according to Coast Guard Cmdr. Cosimo Nicastro. Costa Cruise has reported about 1,000 Italian passengers were onboard, as well as more than 500 Germans, 126 Americans, 160 French and about 1,000 crew members.
While search and recovery continues, authorities have detained the ship's Italian captain, Francesco Schettino, who is being investigated for manslaughter and abandoning ship. The Associated Press reported that Schettino is being held in a jail in Grosseto, Italy, until next week, when a judge will determine whether he should be released or formally arrested. Italian authorities can hold suspects without charge for a number of days during investigation.
A Coast Guard spokesman has reported that the ship made a dangerously close approach to shore which probably caused the accident in water known for having rocky reefs. After hitting a reef which caused a 160 foot gash in the side of the vessel, the captain attempted a safety maneuver; setting anchor and bringing the ship closer to shore to facilitate a rescue. At that point the ship had already begun to topple over and was taking on water.
Authorities are puzzled that the captain did not attempt to send out a mayday alert in the midst of the accident. Furthermore, according to reports from some passengers, crew members did not inform them that they were in danger until after the cruise ship was toppled on its side. Instead passengers heard announcements done in various languages reporting that there was "an electrical problem and the situation was under control". The delay in informing passengers of the actual severity of the situation made lifeboat evacuation virtually impossible for many who according to eyewitness accounts began jumping off the boat into the sea.
Adding further insult, according to the Associated Press, a French couple who boarded the Concordia in Marseille, Ophelie Gondelle and David Du Pays of Marseille, reported seeing the captain in a lifeboat, covered by a blanket, well before all the passengers were off the ship. They were perplexed that the captain had abandoned the ship before everyone had been evacuated.
This is not the first accident involving one of Costa's cruise ships. In 2008 when strong winds buffeted Palermo, the Concordia banged against the Sicilian port's dock, and suffered damage but there were no reported injuries. In February 2010, another Costa ship, the Europa, hit a pier in Sharm el-Sheikh, Egypt, resulting in the death of three of the ship's crew members.