Denver Broncos quarterback Tim Tebow took a secret weapon into Thursday night's come-from-behind, last-minute 17-13 win against the New York Jets.
Prayer. Well, that's no secret, as anybody knows who has ever watched Tebow take a knee as he thanks his heavenly Father right there on the field. His familiar gridiron genuflection is now called "Tebowing" — one knee on the turf, head bowed, one hand holding his helmet, the other cupping his forehead as he asks for divine assistance.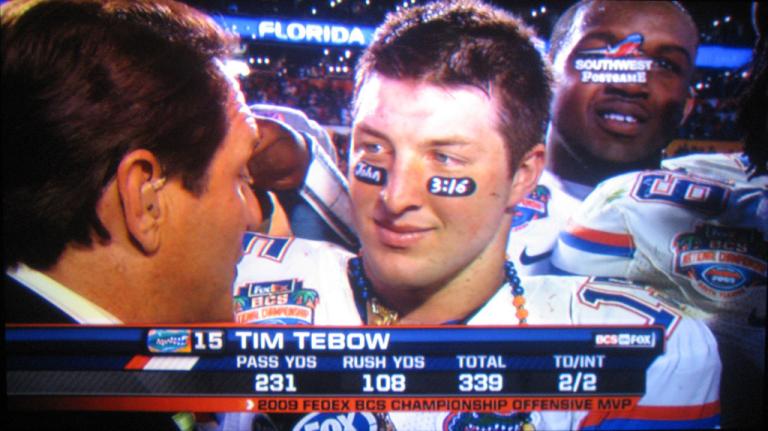 His critics are relentless — pooh-poohing his abilities, scoffing at his readiness to move up from college ball to the pros. However, he's now 4 and 1 for the season — as in four wins, one loss against Detroit. And his secret weapon?
Thousands of fans are praying for him. Thursday night just before the kickoff, the unabashed Christian athlete posted "Colossians 3:15 GB²" on Facebook. Quickly 6,000 people had "liked" his post and more than 1,000 had left comments.
Colossians 3:15, of course, proclaims: "And let the peace of God rule in your hearts, to the which also ye are called in one body; and be ye thankful."
The National Football League doesn't allow him to grease-paint his face with Scripture references anymore. For years when he was calling plays for the Florida Gators, he would write a Bible verse in white letters on the eye black he wears to reduce glare. Within minutes, hundreds of thousands of hits would show up on Google as fans searched for the reference. He has more than 704,000 friends on Facebook.
And they take his Scriptures very seriously. One fan wrote, "Tim Tebow, I don't think your major battle is the opposing teams, but it is against the Enemy and his tricks. I see you more as a missionary than just the quarterback to save the Broncos. They needed you, and the other Christians involved with the team needed your brotherly support. Good job."
Another fan posted, "Great quote for today, because we all need peace in our hearts. Tebow I will pray for the Lord's will for the game tonight, but really do hope that yall will win tonight! Tebow again thank you for being an inspiration and continue to prove your doubters wrong!!! Go gettem Tebow!!!"
And "gettem" he did. With seconds on the clock, he ran the ball 20 yards for the winning touchdown.