By Corine Gatti
of the Beliefnet Staff
NORFOLK, Va. –– A few photographers and two reporters, including myself, stood in a huddle outside the green room waiting for Quartet Representative and former British Prime Minister Tony Blair.
Blair, 58, greeted us quickly with his charm and huge grin before being whisked away to spend time with friends visiting from England. Then it was the media's turn.
We moved through the narrow hallway past flowered wallpaper and a mini-kitchen with a microwave adjacent to the main room housing two comfy chairs and a peach-colored wall where Blair posed for his photo op.
His handlers reminded us not to ask questions before his 90-minute dialogue at Norfolk's Chrysler Hall. Blair, dressed in a tuxedo, stood staunch and did chat about enjoying his first time in Norfolk and seemingly wanted to speak. I mean that's what he does for a living — he engages conversation.  He's trying to bridge peace in the Middle East, running the Tony Blair Sports Foundation, aiding in the relief of poverty in Africa and participating in mass speaking engagements since leaving office in 2007.
Criticized for embracing U.S. policy on the War on Terror, Blair has been slammed by the British public and the local press, and left 10 Downing Street on a sour note. Yet, he has not slowed down and neither has his income or his ambitions. He is a well sought-out speaker. It was estimated that he is paid a whooping $250,000 dollars for his lectures, according to published reports. A spokesman for Blair told the Sunday Times that "[He] is in great demand for his insight and analysis, which is a tribute to the high esteem in which he is held."
Former President Bill Clinton and his successor George W. Bush each make an estimated $150,000 per gig.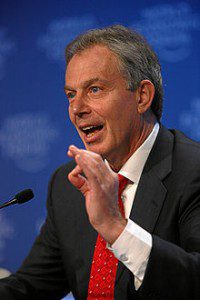 Blair delivered the goods for a packed house of over 1,500 with many middle-aged conservatives, an event hosted by the Norfolk Forum.
Many Americans are disenchanted with the economy and the future of the country. he noted. America is not in a decline and "The solution is not to lose heart, but to regain it," encouraged Blair — who shared that he wanted to become a rock star and once had his own band called "Bad Rumours."
Blair talked about democracy in the Middle East. The Quartet, which was birthed in 2002, includes the U.S., the European Union, Russia and the United Nations.
"A good test of a country is whether people are trying to get into it or get out of it," he said. "Any time people are free to choose, they choose our way of life."