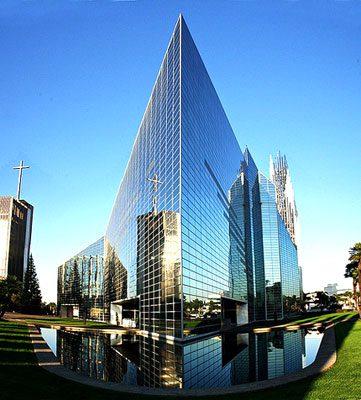 Dr. Robert H. Schuller's famed Crystal Cathedral will be sold to nearby Chapman University if the church's board has its way.
Under the plan, Chapman University would purchase the Cathedral and surrounding buildings for $50 million. However, it would allow the church to continue to use the Cathedral itself — and eventually buy it back, reports Nicole Santa Cruz, in the Los Angeles Times.
"All the creditors will be paid," said Chapman President James L. Doti. "And the Crystal Cathedral ministries will continue."
"The landmark church, with 10,000 panes of glass, filed for bankruptcy last October, citing more than $50 million in debt. It is a ministry that has been mired in turmoil throughout the last several years, beginning with the resignation of Robert A. Schuller, the founder's son, as pastor in 2008," reported the Times.
"Three weeks ago, the church's creditors committee filed suit, alleging that the church founder's family members and in-laws profited as the ministry struggled."
A hearing of the creditors committee on whether or not to approve the bankruptcy exit plan is set for Nov. 14, according to the Times. According to financial statements filed Oct. 18, the church raised only $172,775.50 in an emergency appeal to save the Cathedral. In a statement applauding the Chapman decision, the elder Schuller emphasized his respect for the school.
"Chapman is an esteemed educational institution and we are compatible in many ways," Schuller told the Times. "If Chapman emerges as the owner of the Crystal Cathedral campus, we will welcome the future students and faculty with all that our positive faith has to offer."
The Roman Catholic Diocese of Orange had also bid on the church, with a plan to purchase the campus for $53.6 million. Other interested buyers included a non-denominational church based in Norco and real estate investors.