Leaders of the British Commonwealth 0f nations Friday unanimously approved new rules that would allow a future British monarch to marry a Catholic.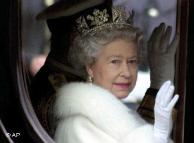 They also dropped the longstanding rule of succession that made it difficult for a Princess to rise to the throne. Queens Elizabeth I, Victoria and Elizabeth II were crowned only because no son was eligible.
The succession change is unlikely to have any effect for decades. Queen Elizabeth's son, Charles, the Prince of Wales, is next in line. Then his son, William, is next. Only if William and Princess Kate have a daughter would the rule be invoked — and given the longevity of British monarchs, that child is unlikely to take the throne for quite some time.
However, easing the rule against Catholic spouses has an immediate impact. Charles' wife, Camilla, was raised Catholic. The British king or queen is the titular head of the Church of England, which broke away from the Vatican 500 years ago during the reign of King Henry XIII.
At a Commonwealth meeting in Perth, Australia, of the 16 nations which claim Elizabeth II as their queen, British Prime Minister David Cameron proposed the rule changes, reported the British daily the Telegraph. Queen Elizabeth was in attendance and apparently endorsed the changes.
"Attitudes have changed fundamentally over the centuries and some of the outdated rules — like some of the rules of succession – just don't make sense to us any more," Cameron told reporters.
Queen Elizabeth II became monarch because her father, King George VI, had no sons. If the queen'd had a brother, he would have preceded her in the line of succession, regardless of his age.
When a king is married, his wife becomes queen — but lacks the authority of her monarch husband. When a British queen is monarch, her husband is the "consort" and bears the title "prince" as in Elizabeth II's spouse Prince Phillip and Victoria's beloved Prince Albert. Elizabeth I never married.
Although more than 50 nations are members of the British Commonwealth, only 16 embrace the British monarch as their sovereign — and place her image on their currency, postal stamps and other official documents — the United Kingdom (England, Scotland, Wales and Northern Ireland), Canada, Australia, Papua New Guinea, New Zealand, the Pacific islands nations of the Solomon Islands and Tuvalu, and the Caribbean nations of the Bahamas, Belize, Antigua and Barbuda, Saint Vincent and the Grenadines, Grenada, Saint Kitts and Nevis, Barbados, Saint Lucia and Jamaica.
The British Commonwealth also includes the nations of Abu Dhabi, Aden, Aitutaki, Alderney, Anguilla, Ascension, Bahrain, Basutoland, Bechuanaland, Botswana, Brunei, Caicos Island, Cayman Islands, Christmas Island, Cocos Island, Cook Island, Cyprus, Dominica, Falkland Islands, Fiji, Gambia, Ghana, Gibraltar, Gilbert Island, Guernsey, Guyana, India, Ireland, Isle of Man, Jersey, Kenya, Kiribati, Kuwait, Leeward Island, Lesotho, Malawi, Malaysia, Maldives, Mali, Malta, Mauritius, Montserrat, Nauru, Nigeria, Niue, Norfolk Island, Nyasaland, Oman, Pakistan, Penrhyn, Pitcairn Island, Qatar, Samoa, Sarawak, Seychelles, Sierra Leone, Singapore, Somaliland, South Africa, St.Helena, Sudan, Swaziland, Tanzania, Tokelau, Tonga, Trinidad & Tobago, Tristan Da Cunha, Turks & Caicos Island, Uganda, Vaitupu, Vanuatu, Venda, Zaire, Zambia, Zanzibar and Zimbabwe.