Recently the kids and I have been listening to an audio book when we're in the car, but, sometimes, between discs, we'll let the radio play. Since we gave up TV years ago…and I don't read the news, either…we can be a little out of the loop. Maybe Kirsten listening to the Tulsa radio is a bit like Country Mouse visiting Town Mouse.
When the advertisements play I don't think of them for me. My life is–by choice– simple: I take care of farm animals; I school my children; I school other people's children; I exercise at the local YMCA; I go to bed ridiculously early. Every few months we'll venture the forty miles to Tulsa, but it's a treat and not the norm.
So a few weeks ago, when I heard the Trans-Siberian Orchestra advertised on the radio, I never considered buying tickets. I only thought to myself how wonderful it would be to go.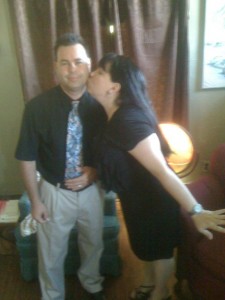 And, of course, it transported me back to Friday, October 14–just three weeks before my husband unexpectedly died. He took me to the opera.
No one would have guessed my Joe loved opera. He was an Oklahoma boy who ate jerky, drank sweet tea and used inappropriate clichés ("It's colder than a well digger's butt!" or "That rain is a real turd floater). But he had admitted to me that as a little boy he would lock himself in his room, play opera, and pretend to conduct…for hours. (I could relate since my childhood was spent with an old-fashioned record player and my Dad's Frank Sinatra album.)
Sometime in September I received an envelope in the mail with my name and address typed on the outside. I opened it to find a formal invitation from my husband of eighteen years. He asked me to please accompany him to a dinner out followed by an opera performance—"The Barber of Seville" at the Tulsa Performing Arts Center.
The truth was–although I was thrilled my husband wanted to take me out–I wasn't so sure I would like the opera. He played opera in the garage when he worked on his wood working projects, and I thought the music was a bit annoying. He knew me well enough, though, not to care that I wasn't bubbling with excitement. He counted the days until the special night, the hint of a knowing grin at the corners of his mouth.
That was a magical evening. Joe didn't have a lot of money but he had saved his dollars and purchased $100/each seats for us on the sixth row, center. Seeing this opera was a "bucket list" event for him. The performance was unbelievable; we were both enraptured the entire time and the next day we still glowed. I remember Joe saying multiple times that day, "I can't stop thinking about it! Figaro!" We were so happy.
And now fast-forward weeks later when my whole world has changed and I am sitting in the driver's seat instead of the passenger seat because Joe is no longer with me. The radio plays. I listen to the advertisement for the orchestra and wish I could capture, again, a bit of that opera glory.
That's why it was so special, the following day, when my friend texts me that she and her husband would like to please take me to the orchestra while their teenage daughter watches the children?
I have daily proof that Someone is watching out for me. Yes, I'm sad…terribly sad. I miss my husband so very much. I expected to have years of opera outings with My Guy, but instead I have this soul-deep ache that will never go away. It would seem unbearable if it weren't for the constant proof that I truly am covered in care. I am held up…kept from falling and becoming a puddle…by the daily miracles. I acknowledge them and I thank them. And I go on.