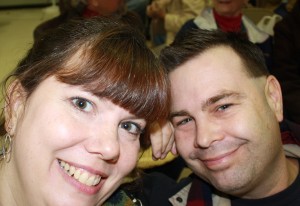 When I take inventory of my life at this moment in time, I can honestly say that *everything* is good….everything except for missing my Joe. But that missing is paramount. I feel like I've been through surgery and someone has cut away half of me. There are no words for this kind of grief; if there were words, you know I would give them to you. So instead I'll tell stories. I sense deep down that my healing is in the telling.
Joe and I had an uncanny connection. We talked about how we didn't need cell phones because we could reach across distances to talk with each other without them (and, no….it's not working now. How I wish it did!). One Christmas season Joe went on a secret out-of-town shopping trip to purchase gifts for me; he was scouring the antique stores for aqua kitchen items and enamel white pans.
I remember very clearly that night putting fish sticks in the oven for the kids, noting the time, and sending Joe a message from my heart: "Call me. I'm getting worried." Then I waited.
And he didn't call.
I began to panic. I even called my sister and she worried with me. She knew how he always heard my messages. At that point, fear took over, and my my heart and mind were so frantic, I couldn't listen for Joe.
Hours later–when he came home–I greeted him in the yard, an absolute mess, crying, "Where *were* you? I was so worried!"
He looked at me baffled and said, "I know when you were worried. It was around 6:10 p.m., right? I was at the check-out and I heard your message. I looked at the clock. There wasn't a phone. So I sent you a message back that I was okay. Didn't you get it?"
I forgave him, of course. It wasn't his fault that I could send the messages but not hear them!
Two weeks before Joe died, I went on a trip to New York with my sisters. It was a lifetime dream to go and I know–and I knew then–how fortunate I was to be married to the kind of man who would kiss me goodbye, give me his blessing, and hold down the fort while I was away.
I received this email from him while I was there:
K,
I just wanted you to know that I had a strong moment of really missing you today. I was just wondering what you were doing at this time of day, since we are so connected, I thought that something was up.
Love and miss you,
Joe
He had sent it about the time I had seen Ground Zero…which affected me strongly…but that didn't occur to me until now.
(Side note: when I look back…the other moment where I almost came apart at the seams in New York was when I walked by a homeless lady with a sign that said, "Lost my husband unexpectedly"…the sadness of it overwhelmed me and I had to go back to her and put money in her cup)
I love it that we had that connection. I love it that he sent me that note. But I love it more that this was my response:
Joe,
Hmmm….not quite sure. We were maybe lost at that point! Lol. But I never felt scared or worried. Maybe it was when the super-nice New York dad was giving us directions and I was thinking you would do the same for lost tourists. Could have been when the black street dancer told me he would have gone home with me for a $20!!! heeheee…were you sensing competition? Don't worry…I will come home to you, my love. I love it here but I love home more.
–Kirsten
Today–Thanskgiving 2011–I am the most thankful that Joe knew…that he knew…that he knew…that his wife loved him with all her heart. He loved me well. I loved him well. There are no regrets.
Please…don't let anyone leave this earth with you still here, regretting what you did not say or did not do. Say "I love you" today…often.
In Joe's honor, love the people in your life and do so with extravagance!