I'm fascinated by egg baskets. This may be, in part, because I have chickens. And they lay eggs.
At any rate, an egg basket actually scored a spot on my vision board–a large poster board I have in my bedroom featuring photographs of things I hope to have in my future. The egg basket photo is glued right next to a picture of a barn and another showing a remodeled bathroom (by the way, I created this vision board 15 months ago and almost everything has come true).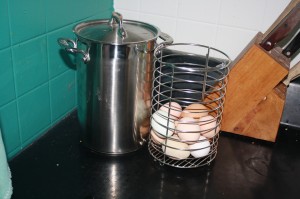 A month or so ago my sister and I were in a Goodwill store and she noticed an unusually tall and narrow metal pot with a lid. We both agreed it would make a perfect container to keep on my kitchen counter where we could store each day's table scraps for the appreciative chickens. When we opened it up we found a lovely little metal basket the same shape and size nestled inside. (We later deducted this strange kitchen item is an asparagus steamer.) The basket became my egg basket. I was happy with it.
When I saw the $15 big metal red egg baskets at the farm store, I reminded myself–smugly–that I had a pretty one at home and it had a matching scrap bucket. HA!
When I saw the $30 egg baskets at the antique stores, I knew I had scored well with my Goodwill $2 buy.
Maybe I had developed a bad habit of putting down other egg baskets because today….when I saw an actual egg basket at a yard sale marked for 25 cents…I almost walked on by it. It was an egg basket very similar to the one pasted on my vision board. Did I mention it was 25 cents? But, you see, it was mixed in with the Christmas items…and it had a bit of Christmas ribbon tied to it…which made it look so wrong. And so I didn't recognize it as even being an egg basket (like it needed to have eggs in it for me to see that?).
Funny, though–when I paid my 25 cents and took it home and snipped off the ribbons and filled it with eggs–now it looks exactly right.
This egg basket makes me wonder about how many times I wish for something and then don't recognize it when I see it? Hmmm…something to ponder.