Wednesday morning I woke early. The house was quiet and I peeked out the back window at an amazing sunrise. I tip-toed outside and sat on the back porch with Sammy the cat and watched that sunrise and felt the awe. When the awe takes over–and the gratefulness oozes–those are the times to plan for miracles. I thought to myself, "What should I request?" and the words that slipped from my lips were, "Today will have perfect timing.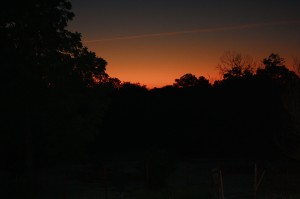 A few hours later I sat outside with my children reading aloud to them and relishing the loveliness of learning with my kids. The gratefulness continued to ooze. Lessons over, I was startled to see I was running late getting to work and I had promised a friend I would give her a ride to the school. I drove fast to her house and beeped the horn in her driveway. She came running out and then, when I pulled out of her driveway, the steering in my van went out. Then the AC stopped working. The battery light came on. The heat gauge began to rise. But work was not far from my friend's house and we arrived safely. I wondered to myself how everything would work out….
But you know what? It did. After my two classes, I called my husband who was available to take the van to the shop. My third class was–strangely–cancelled so I had no trouble going with him. My afternoon appointment cancelled all by itself. I even had time to take my girls to the Sonic for a slush when they requested we do so.
That afternoon–when I returned home earlier than usual (?!)–I reviewed my day and smiled. The day was full of one amazing miracle of timing after another. I didn't even have time to fret over my vehicle issues, because I was too flabbergasted by how smoothly the events of the day fell in to place. The day began with gratefulness and ended with gratefulness….and in the middle I simply acknowledged each little miracle.
They happen all the time; it's just a matter of seeing them 🙂