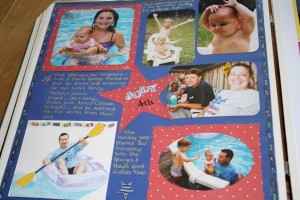 I was looking through some of my scrapbooks and marveling over the fact that I created them when the children were….well…children! They were small children. I know many of you like to scrapbook and maybe you're having a hard time getting it done. Here are some tips to do just that (even with small children in the home!).
Prepare a scrapbooking area. Your dining room table does NOT constitute a scrapbooking area! You need a place where you can leave out a half-finished page for a few days if you need to. Is there a corner in your house where you could put a small card table or desk? I have a large computer desk so when I need to scrapbook, I push my keyboard aside. I also have the school table next to the desk if I need more room. I use my desk drawers for pens and tools.
Stand up for yourself. Explain to your kids that the area is your's and your's alone…and threaten them with something big if they EVER touch ANYthing on the table/desk…and then follow through the first time he/she does so! Make the first an example to any who dare to follow! I think how we respond to our kids when they get into our personal things reflects how we feel about ourselves. Are you worth a corner of the house? Are you willing to consistently give consequences to protect your hobby? As Moms we often give up our personal stash of chocolate….eat cold food since we spent so much time cutting and serving our kids' food….give up time out alone because we'd rather be with our kids…etc, etc…That's motherhood and self-sacrifice is great, but our kids need to learn how to respect us, too. What would happen if a little guy got into Dad's tools or his desk?
Organize your photos as they come in. When I return home from Walgreens with my photos I quickly…that very day….sort through them. I organize them in envelopes for future scrapbook pages. It doesn't matter if I don't get to the pages for the next three years, if they are organized, they WILL eventually get scrapbooked. If they are dumped in a box, they will, most likely, not. I use business envelopes. In the top left hand corner I write the date. In the top right hand corner I write the name of the album (Family, Josiah's, CubScout, Grandmother's, etc). In the center I write the title of the page (October-November, Birthday, Christmas, Vacation, etc).
Budget the time. Face it, People…we make time for the things we prioritize. I have friends who budget an entire hour each night for a favorite tv program. Think how many albums you could finish with an hour each evening? Or do you watch Dr. Phil or Oprah in the afternoon? I like to use Friday morning as my scrapbooking time. I don't have outside errands on that day and my laundry is finished by that day so I have a little bit of extra time.
Have materials on hand. Okay, I suppose this is an unnecessary point! I have joked so many times with some of my friends that they need to start a club for women who COLLECT things to scrapbook but never actually put together a page! Yes, we all have paper and stickers and embellishments, but do you have enough adhesive and pens and cutting tools?
Let go of the perfectionism! Ask yourself, "what is the reason I scrapbook?" Is it to make a page which is better than all the rest? A work of art for people to "ooh" and "ahh" over? Or are you wanting your photos to be preserved in a safe place where your family and friends can actually enjoy looking at them? For the second thing to happen….well, then, you have to scrapbook! And if you're trying to achieve the perfect page, you're either going to run out of time or freeze in fear so your pages don't get done. You shouldn't spend more than ½ hour on a page. It doesn't need to be perfect…it needs to get done!