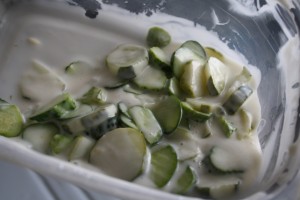 So…has it happened yet? Have you looked in your garden and found your first cucumber? Well, if you haven't, it's bound to happen soon (well…if you have a garden…and if you planted cucumbers, that is!).
I love to grow cucumbers because they are one of those easy-to-grow foods that require little care and weeding and they just keep producing…and producing…and producing. After I've sliced the first few to top green salads, though, I always have a moment of thinking, "What am I going to do with all of these cucumbers?" And that is when I remember….
"Mmmm…Cucumber Salad!"
Pull out a container with a lid and fill it with the following ingredients:
1/2 cup of Miracle Whip
2 TBS vinegar
1 TBS sugar
1/4 tsp salt
1/3 tsp pepper
Stir it all up and put it in the fridge.
Each morning when you find yet another cucumber, bring it inside, wash it off, and slice it up. If it's a mature cucumber with a thick skin, peel it first, but if it's a tender new cucumber, go ahead and leave the skin. Toss the slices in your container of dressing, put on the lid, shake it up, and put it back in the fridge. Every meal bring it back out and add a few to your plate and say, "Mmmm…cucumber salad!"
P.S. They make lovely little cucumber sandwiches…which may make you feel like English royalty at tea time ;).