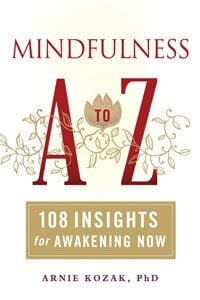 2015 has been a busy year for me publishing books. In May, The Awakened Introvert came out (New Harbinger). In July, The Everything Essential Buddhism Book came out (Adams Media). Soon, Mindfulness A to Z: 108 Insights for Awakening Now (Wisdom Publications). The official release date is September 22 but I received a rush copy the other day!
Mindfulness A to Z is something of a memoir because it contains a variety of personal stories about times that I was mindful and times that I was not. The book is organized as the title suggests as a dictionary of mindfulness terms with listings literally from a to z. You'll find entries on acceptance, Buddha, compassion, equanimity, and so forth.
The book has been beautifully produced by Wisdom. It's not the kind of book that you'll read cover to cover. You can march through the entries in order or you can skip around. You'll want to read one or two per day and sit with the wisdom and guidance that it sets forth.
It is my hope that this book through its candid revelations about my own attempts to live a mindful life can help you to live more mindfully too. Each brief chapter contains some important teaching relevant to mindfulness and grounded in the teachings of the Buddha.
I had the great fortune to receive an endorsement from Tara Brach, one of our most beloved mindfulness teachers and author of the classic Radical Acceptance and more recently True Refuge. She said of A to Z:
You don't "read" Mindfulness A-Z. Rather you go on a series of intimate journeys with author Arnie Kozak, and explore the facets of heart and awareness that can free your spirit. Through personal revelation, Buddhist teachings, western science and his own deep wisdom, Arnie offers us a banquet to savor! –Tara Brach, Ph.D., Author of Radical Acceptance (2003) and True Refuge (2013.)
Here is an excerpt from the preface:
Mindfulness is about paying attention to our life as it unfolds, moment-by-moment.
"To be mindful" is to bring a particular kind of attention
to our experience—one that is keen and focused on what is actually
happening, as opposed to what we wish would happen. Mindfulness
privileges perception over imagination. At its deepest levels, developing
mindfulness helps us to clearly see that we construct much of
our experience of the world and ourselves. And by construct I mean
the quality of our minds determines the quality of our experiences.
We are "put together" by our beliefs, stories, and attitudes. By practicing
mindfulness we can learn to relate to the world, others, and
ourselves in a more open and accepting way, without so many preconditions
for happiness. A serious commitment to mindfulness, practiced
over time, can help to move us toward a more awakened way of
being-in-the-world.
You can pre-order your copy now from Amazon or your local independent bookseller: