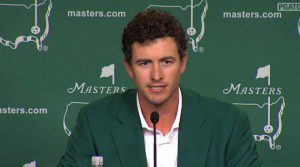 Adam Scott won the 2013 Masters in thrilling fashion. In doing so, he became the first Australian ever to claim the Green Jacket. Scott is the consummate champion and hero.
His career fits the Hero's Journey. I wrote about the Hero's Journey in my post about the film, Finding Joe. Like the heroes discussed in that film, Scott has gone through adversity in his career. He has undergone separation, the call to adventure, and yesterday he returned home.
He has one of the purest swings in the sport. After a very promising start, his career faltered. At 32-years-old, however, he has been recently in contention again. He was four strokes ahead with four holes to go in last summer's Open Championship only to falter and lose. Before and after this heartbreaking victory, he has come close to winning a major championship.
Yesterday, he was tied for the lead going into the last hole. He looked over a 25 foot putt for birdie. He made the putt and celebrated for Australia. A 25-footer is no gimme. It was a magnificent effort. He had been tied with Angel Cabrerra who was standing on the 18th fairway as Scott made his putt. Cabrerra would now need to birdie to force a playoff. He hit his approach shot to three feet. An amazing shot under pressure. Now there would be a playoff.
As the sun was setting, the sensational competition continued in the playoff. Cabrerra came within a hair's width of sinking a birdie chip on the first playoff hole and nearly putted in for his 15 foot birdie on the next. Scott had a chance to claim the championship with a 12 foot putt. He made it.
To play golf at this level and to retain your competitive edge–to embrace and enjoy competition–while others falter under the pressure, is the mark of a mindful champion. Scott was able to do this, to keep his focus in the present and not on the hero's welcome that awaited him or the painful disappointment from Royal Lytham.
Scott is a well-spoken, humble champion. He did not thank Jesus for his victory as did Bubba Watson last year and Webb Simpson when he won the U.S. Open. Whatever his personal beliefs, he did not impose them upon the worldwide viewing audience. I find the common practice of athletes invoking Jesus a particularly disagreeable practice, one that has no place in sport.
Scott's post-round interview was impressive and informative. None of the surliness or excessive technicality of a Tiger Wood's interview. His was refreshing. Watch an excerpt here.