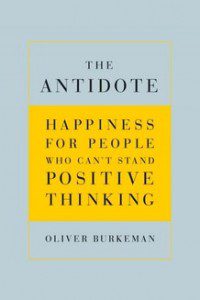 Author Oliver Burkeman was interviewed about his book, The Antidote: Happiness for People Who Can't Stand Positive Thinking. His thoughts are a helpful antidote the tyranny of positive thinking as reflected in my recent review of the movie, "The Cure is …"
Burkeman says,"I think the premise from which I start is this idea that … relentless positivity and optimism is exactly the same thing as happiness; that the only way to achieve anything worthy of the name of happiness is to try to make all our thoughts and feelings as positive as possible, to set incredibly ambitious goals, to visualize success, which you get in a million different self-help books."
To be sure, positivity in both thoughts and feelings is a vital ingredient for a happy life. It's one of the five pillars of flourishing, as identified by positive psychology founder, Martin Seligman. The other pillars are engagement (much akin to mindfulness), relationships, meaning, and accomplishment.
Burkeman goes on to say, "I think that what is counterproductive about all these efforts that involve struggling very, very hard to achieve a specific emotional state is that by doing that, you often achieve the opposite.This begins to sound a lot like mindfulness.
With mindfulness we do not aim for a specific outcome. Rather, we seek to make contact with what is here and greet it with acceptance, curiosity, and openness.
Going a little deeper, the "cult of optimism" is just another form of attachment. We can become attached to anything–even something that is beneficial and this very attachment gives rise to dissatisfaction, misery, anguish, and suffering. On the flip side, we can become attached to the negative productions of our minds, and get lost in rumination. Neither extreme is helpful.
Right there in the middle is the best place. We don't have to be afraid of negativity and we don't have to indulge it. We don't have to be obsessive about positivity, although we may need to encourage ourselves from time to time.
You can listen his NPR interview here.