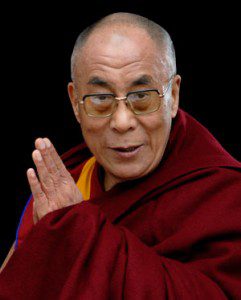 On Saturday, 13 October, His Holiness (H. H.) gave a thirty minute talk at Middlebury College as part of his Cultivating Hope, Wisdom, and Compassion tour. His simple message, there is "one humanity."
He then sat down, put on his red visor and answered questions for an hour. These questions ranged over prayer, ideology, hospice, spirituality in a material world, and tourism in Tibet.
I was particularly intrigued by his response to the efficacy of prayer. He told the audience that prayer is something you do to make yourself feel good, not to achieve desired results. Only action can bring results he chided with his infectious laughter. He told a story of two Indian politicians who beseeched his prayers before an election. How absurd, H.H. mused. One of them was bound to feel disappointed and blame him.
He told another story of a chief minister in Bodhgaya India, the place where the Buddha became awake and the most important of Buddhist pilgrimage sites. Bodhgaya is located in Bihar, the poorest state in India. They were dedicating a new temple and the minister was confident the Dalai Lama's blessings would bring prosperity to Bihar. HH laughed again. "Really?" he thought. If Buddhist blessings brought prosperity, Bihar would have been prosperous since 2500 years ago. Only action brings prosperity. A refreshing perspective from a religious leader. One you won't find duplicated by many others.
Another uproarious anecdote came in response to the question of how to live a meaningful spiritual life in our materialistic culture. He was on tour and was the guest in someone's home. Sounded more like a mansion of some kind. In the guest bathroom, he noticed the medicine cabinet ajar. He confessed, with an impish playfulness, that he peaked inside the cabinet to find sleeping pills and tranquilizers. To paraphrase, "these people were wealthy but they needed tranquilizers to sleep." H. H. reported that he sleeps quite well without the aid of tranquilizers. He was telling us to do make our spiritual efforts in the context of the material world and to not look for the material world to bring happiness.
As with his talk, laughter and self-effacing humor were the vehicles for communicating what was most important. If you've never seen The Dalai Lama and have a chance to catch him in his tour, it might be worth your while. You can see his tour schedule here.