His Holiness, the Dalai Lama gave his public talk at Middlebury College today to a crowd of a couple thousand or so people. I had the fortune of being in that crowd. It had been a long time since I was in his presence.
His tour is entitled, Cultivating Hope, Wisdom, and Compassion and more specifically for Middlebury–Finding Common Ground: Ethics for a Whole World.
We are the same human being" he contends. Our physicality, mentality, and emotions–the same. This is the basis for the "Oneness of Humanity." The problem is that we focus on differences–racial, religious, political, national. All people want the same thing–happiness–and the focus on difference becomes and obstacle to that birthright of happiness.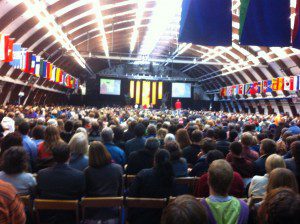 He encouraged us, as citizens of the United States, the leading country in the world (not without its problems, he laughed), "to work hard" with the privilege that democracy and freedom provide. Instead of goofing off so much, we should be more diligent, he advised. He made the point that America must succeed or the world is in big trouble.
Another deceptively simple message was that "violence was outdated." Let's just put violence out of fashion. The alternative, you might be wondering? Dialogue and the investigation of reality. If we can't see reality clearly, we can't act clearly. If we let our emotions off the leash, we can't protect ourselves. Peace requires self-discipline. We own that possibility.
His recommendation is for a secular basis for ethics. As a religious leader, this claim may seem counterintuitive. Yet, its rationale is, again, simple. Secular ethics can be universal–one humanity.
The crowd at Nelson Arena was appreciative, rising to its feet several times. Of course, more important than the wise words His Holiness utterred was how he uttered them–with laughter, much laughter. It seemed clear that he was tired, his voice strained, almost a whisper at times. He's been all over the Northeast and there's no sign that he's stopping soon.
Yet, despite his fatigue, each time he laughed, the arena warmed. That resonant, jocularity is the vehicle of the message. We can all laugh and should probbably do more of that. It seems the world would be less violent place if we were all laughing like that.
I'll post another entry soon with his answer to questions on prayer, ideology, hospice, spirituality in a material world, and tourism in Tibet. More laughter, wisdom, and insights.