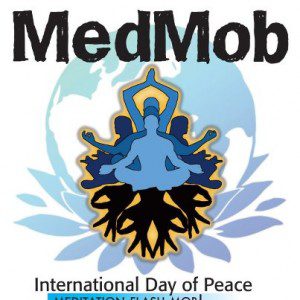 The University of Vermont sponsored its third MedMob yesterday. If you are unfamiliar with MedMob, you can read more about it here. I wrote about the last MedMob, held in April, here.
My impression was that this event had fewer people than the previous MedMobs. I was struck yesterday, as I was in April more by the people who were not meditating. I wonder why this is so.
Even in the liberal, progressive, yoga-studio-laden land of Burlington, most people are not interested in meditation. A few people are just unfamiliar–never heard of it, perhaps. Most have heard of it, yet have no interest. They may think it is something alien, exotic, or, worse, satanic.
As a psychologist, my impression is that most people are just not that interested in their inner experience and would thus not be drawn to meditation–which requires interior self-discovery. Other people may be interested but are frightened by what they might find if they look within. Still of other are interested and unafraid and too busy to work it into their day.
Culture makes a difference here. Organizations like Green Mountain Coffee Roasters, Google, and CIGNA support a culture that values meditation. Congressman Tim Ryan makes the case for A Mindful Nation, but his voice stands along in Congress. The mindfulness revolution is ongoing yet still a soft voice in the tumult of politics, commerce, and whatever it is that people are doing pursuing "The American Dream." I don't think the American Dream in includes meditation, at least not yet.
Why bother? Here some reasons why you might want to bother with meditation. You can change, in radical fashion, your relationship to your self, others, and the world around you. You can become more focused, poised, and courageous (that is, less ruled by fear). You can expand your ability to cope with adversity and enjoy things when they are going well. You can become more attentive, open, and compassionate. You can get to know (and like) the person you spend the most time with–you! (you may even grow to love yourself). And, as the sponsors of MedMob aspire towards, you may contribute to the cause of peace.
At some juncture in time, humanity will be confronted with the cost of constantly doing at the expense of being. That last statement is too broad. Let me restrict that to the humanity comprised in industrialized, capitalistic societies. Doing and having versus playing, creating, and being. I hope this is the wave of the future. Not that I have anything against doing and having–I do all the time and have plenty of stuff. Playing, creating, and being can compliment the rest.
So meditate today and get to know yourself a little better. Try do look within without any particular agenda other than discovery. To learn more about meditation, visit the Learn section of my website exquisitemind.com for free guided meditations.