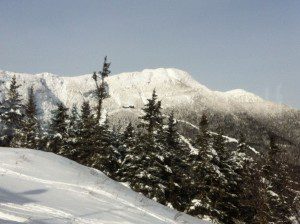 Winter has been relatively mild here in Northern Vermont, yet winter nonetheless. It's cold. Often below freezing. The pond near my home supports ice fishing. The mountains are snow covered. When it is cold we may shiver. Simple as that. When it is hot, we may sweat. Simple as that.
We can use the cold to awaken or to push against, keeping us asleep. a physician friend of mine has been using the cold to facilitate his mindfulness practice:
I am very thankful to feel comfortable in my body. Many years ago daily pain was part of my life and practicing my mindfulness strategies was very important part of my recovery. I have been pain free for so long, I was thinking I may be a bit out of practice with strategies to manage and lower pain with my awareness. This winter I did an experiment which has been wonderfully successful. I walk outside underdressed for the weather. I just wear a very light jacket, and if it is particular brutal I will don a thin glover liner, hat and scar to protect skin from frostbite. The cold causes my mind and body to react in similar ways that chronic pain used to. It is a great opportunity to practice my techniques and remind myself of what it is like to be uncomfortable. Obviously the weather has been extremely variable, so some days offer more challenge than others. My walks are not long so they pose no real threat. In fact, I recently heard that basic science research suggests that this is also very healthy by increasing our metabolic rate and reducing our body fat. I am thinking of going without a jacket by February. So maybe you'll see me walking around looking crazy. Now you'll know I am just practicing!
The key to this practice is distinguishing discomfort from threat. Practiced briefly, cold is uncomfortable not a threat. Once threat has been ruled out, we are free to explore the sensations of cold. "This is happening," you can notice. The initial instinct is to think, "This is happening to me" and by doing so initiate a narrative of how awful the experience is. Cold is just cold. The body may shiver. Goose flesh may arise. And all of this can be interesting.
Discomfort does not have to give rise to suffering. When the "to me" clause is absent there is no one to suffer. This practice is wonderful because it helps us to overcome to the tyranny of being comfortable all the time. We live in a culture that permeates us with this message — be comfortable or be less than. We feel diminished when we are uncomfortable because we feel entitled to comfort, convenience, and specialness.
Being a cold Buddha can help us to overcome this tyranny. We can enjoy being as we are rather than some idea of how we should be. This makes things simpler. More compact. Less stressful. Enjoy the weather where you are whatever it is today.